Details Emerge About Ahmad Rahami, Suspect in NY & NJ Bombings
On Monday, police arrested 28-year-old Ahmad Khan Rahami, the main suspect in Saturday's bombings in Manhattan and New Jersey, after a shootout in Linden, New Jersey. Rahami was injured during the shootout and taken to a hospital for surgery. Authorities say multiple police officers were also injured. He's now been charged with five counts of attempted murder of a law enforcement officer, as well as weapons charges. Police say they identified Rahami from surveillance video which showed him at both sites in Manhattan where bombs were planted—on 23rd Street, where a bomb did explode, and four blocks away, on 27th Street, where a bomb did not explode. Police described that device as a pressure cooker bomb connected to a flip phone, packed with shrapnel and wired to detonate. According to law enforcement officials, his fingerprint was found on this pressure cooker bomb, along with a handwritten note that authorities say contained references to other attacks, including the Boston Marathon bombing. Authorities say Rahami may also be linked to a pipe bomb that exploded in a garbage can earlier Saturday morning in Seaside Park, New Jersey. New details emerged about Rahami and his family throughout Monday. Rahami was born in Afghanistan and is a naturalized American citizen who was living in Elizabeth, New Jersey. He had traveled to Afghanistan and Pakistan several times in recent years, and he lived in Quetta for a time. During his return trips back to the United States, he went through secondary screenings at airports. His family runs the restaurant First American Fried Chicken in Elizabeth, New Jersey. His family filed a lawsuit in 2011 against the city of Elizabeth after it forced the restaurant to stop operating 24 hours a day. In the lawsuit, the family said they'd been discriminated against and harassed by police officers, city representatives and a neighboring business owner, who they alleged said, "Muslims don't belong here." Rahami's family lost the lawsuit. Other details emerged Monday about a domestic abuse charge against Rahami, filed by his sister, who later recanted. New York Congressmember Peter King, who was briefed by the FBI, said Rahami once attempted to stab his sister. On Monday, New York Mayor Bill de Blasio called the bombings an "act of terror."
Mayor Bill de Blasio: "Based on the information we have now, we have every reason to believe this was an act of terror."
After Bombings, Trump Calls Muslim Immigrants "Cancer from Within"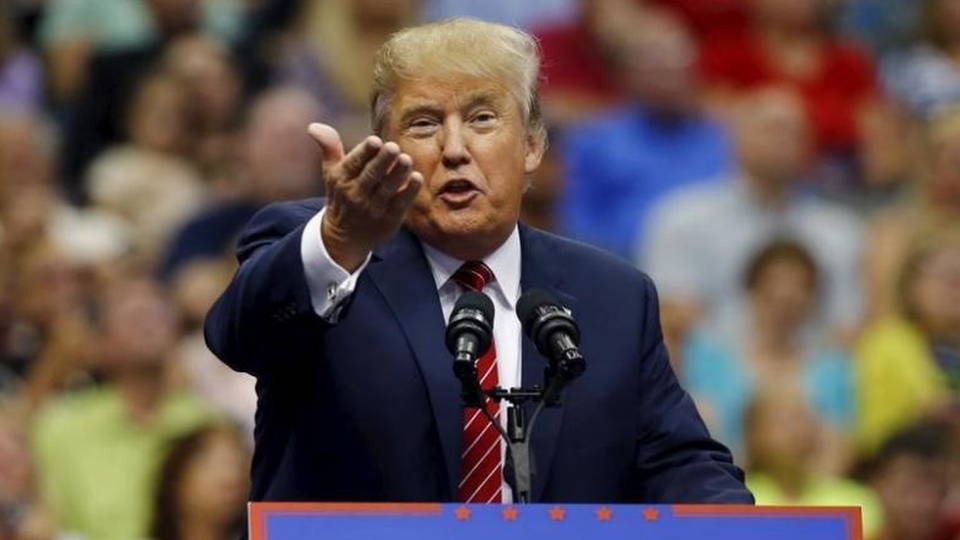 In reaction to the weekend bombings, Republican presidential nominee Donald Trump lashed out at all Muslim immigrants and refugees, calling them a "cancer from within," and suggested that American security forces should follow Israel's example in racial profiling, during an interview on Fox News.
Donald Trump: "We're going to have to hit them much harder over there, and we're going to have to find out—you know, our police are amazing. Our local police, they know who a lot of these people are. They're afraid to do anything about it, because they don't want to be accused of profiling, and they don't want to be accused of all sorts of things. You know, in Israel, they profile. They've done an unbelievable job, as good as you can do. We're trying to be so politically correct in our country, and this is only going to get worse. This isn't going to get better. And what I said is, you have to stop them from coming into the country."
Hillary Clinton Says Donald Trump's Rhetoric Is Aiding ISIS
Democratic presidential candidate Hillary Clinton, meanwhile, took aim at Donald Trump, saying his rhetoric was helping non-state terrorist groups.
Hillary Clinton: "We know that a lot of the rhetoric we've heard from Donald Trump has been seized on by terrorists—in particular, ISIS—because they are looking to make this into a war against Islam, rather than a war against jihadists, violent terrorists, people who number in the maybe tens of thousands, not the tens of millions. They want to use that to recruit more fighters to their cause by turning it into a religious conflict."
South Carolina Senator Lindsey Graham called for Rahami to be treated as an "enemy combatant" and placed in indefinite military custody rather than be treated as a civilian suspect.
New Yorkers Express Concern over Use of Mass WANTED Alert
Meanwhile, back here in New York City, residents are expressing mixed reactions, with some expressing outrage and concern, over the use of a "WANTED" alert message that was distributed automatically to millions of phones across New York City and New Jersey Monday morning reading: "WANTED: Ahmad Khan Rahami, 28-yr-old male. See media for pic. Call 9-1-1 if seen." It's believed to be the first time in the United States that the nationwide Wireless Emergency Alerts system was used to transform residents into participants in a regionwide manhunt. It sparked widespread concerns that people, particularly Muslims and people of color, who were not Rahami could be mistaken for him and targeted. This comes as hate crimes against the Muslim community have surged nationwide, including in New York City, where just last week a Scottish tourist wearing traditional Muslim religious clothing was set on fire in the middle of 5th Avenue in broad daylight. We'll have more on this weekend's bombings and the impact on the Muslim American community during a roundtable discussion for the hour with Haji Yusuf in St. Cloud, Nazia Kazi in Philadelphia, and Dr. Debbie Almontaser and Ramzi Kassem here in New York City.
Mexican President Peña Nieto Faces Protesters in NYC over 43 Missing Students
President Obama and other world leaders are in New York City for the annual United Nations General Assembly. On Monday night, Mexican President Enrique Peña Nieto faced protest from scores of activists outside the St. Regis Hotel in Manhattan, where he was speaking at a dinner hosted by the Foreign Policy Association. The activists condemned the Mexican government for attempting to cover up and derail the investigation into the disappearance of 43 students in the southern state of Guerrero. Monday will mark the second anniversary of the students' disappearance. There are also protests planned against Israeli Prime Minister Benjamin Netanyahu over the Israeli occupation of the Palestinian territories, and against Zimbabwe President Robert Mugabe over police brutality and government corruption, later in the week.
U.S. Rejected Language Calling for End of Child Detention Ahead of UNGA Refugee Summit
The global refugee crisis took center stage at the United Nations General Assembly Monday, when 193 member states met for the first-ever Summit for Refugees and Migrants. They signed a nonbinding declaration outlining a more coordinated and humane response to the biggest migration upheaval since World War II. This comes as several countries rejected an earlier draft of the summit's declaration that urged them to resettle 10 percent of the refugee population each year. The United States also objected to language in the original draft that said children should never be detained. The agreement now says children should "seldom, if ever, be detained" and calls it a "measure of last resort." This comes as teenagers held at the Berks County Residential Center—an immigrant family jail in Pennsylvania—are protesting their indefinite detention. Some have been held for more than a year while they seek asylum with their mothers, who are also detained. This is 16-year-old Estefany Adriana Méndez from El Salvador responding to the U.S.'s insistence on changing the language of the summit's declaration.
Estefany Adriana Méndez: "They had said before they rejected it completely, but now they are saying it is an alternative measure. And I think it should not be that way, because the truth for all of us here, the children who are here, and the mothers, this is a horrible experience to be in detention, because more than a year of incarceration for a child is not just, without having committed any crime. The majority of us who are here, almost all of us—really, all of us—have family. We have family here to receive us. I have family in Maryland, in Los Angeles, in Florida. My father is in Texas waiting for us. I am 16 years old. I am from El Salvador, and I entered the 20th of August in 2015. I arrived at Dilley, Texas, the 26th of August, and I was in that place for two months. There, my birthday passed; I turned 16. Then, on the 28th of October, we arrived at Berks and have been here for 11 months in this place. In total, I have 393 days in detention, and soon it will be my birthday. Truthfully, I hope not to turn 17 here, again, while incarcerated."
At a follow-up summit today, President Obama will call on 45 U.N. member nations to join with corporate donors to increase humanitarian aid for refugees.
Donald Trump Jr. Sparks Outrage by Comparing Syrian Refugees to Poisoned Skittles
Donald Trump's son, Donald Trump Jr., has sparked outrage after he tweeted a graphic, reading: "If I had a bowl of Skittles and I told you just three would kill you. Would you take a handful? That's our Syrian refugee problem." Along with the graphic, he tweeted the words: "This image says it all." In response, Skittles's parent company Wrigley Americas said in a statement: "Skittles are candy. Refugees are people. We don't feel it's an appropriate analogy. … We will respectfully refrain from further commentary as anything we say could be misinterpreted as marketing."
Syria: U.N. Suspends Aid After Its Convoys Attacked by War Planes
Meanwhile, in Syria, the United Nations has suspended all aid after its aid convoys were attacked by warplanes on Monday outside Aleppo. At least 18 of the convoys were destroyed in the attack, which came as aid workers were unloading food and other supplies at a Red Crescent warehouse. The Red Cross says 20 people were killed in the attack. The Red Cross condemned the attack as a "flagrant violation of international humanitarian law." The U.N. says it may amount to a war crime. It's not known who carried out the attack. This comes as the ceasefire brokered between the U.S. and Russia aimed at decreasing the fighting in Syria and allowing for aid to reach besieged areas appears to have collapsed, after U.S.-led bombers attacked a Syrian military position on Saturday, killing scores of government soldiers and allowing ISIS fighters to overrun the survivors.
Report: Saudis May Be Using U.S.-Supplied White Phosphorus in Yemen
In news from Yemen, new reports suggest Saudi Arabia may be using U.S.-supplied white phosphorus in its ongoing bombing campaign. White phosphorus is a deadly munition that releases a thick smoke that is so powerful it can burn flesh to the bone. U.S. law says white phosphorus is only allowed to be used for signals and creating smoke screens when the U.S. sells it to other countries. But human rights activists are concerned the Saudis may be using it against civilians in Yemen, which would be illegal under U.S. law.
Report: Trump Tax Plan Would Benefit Rich Most
In news from the campaign trail, a new investigation of Donald Trump's tax plan, which he unveiled last week at the New York Economic Club, finds it would create huge tax breaks for the rich, and only much smaller tax breaks for low- and middle-income families. The analysis was done by the D.C. think tank the Tax Foundation. It estimates that under Trump's plan people earning $5 million could save a staggering $800,000 on their taxes each year. The foundation also found his plan to be enormously expensive, costing at least $10 trillion over a decade. This comes as a New York Times investigation has found that Donald Trump has received at least $885 million in New York City tax breaks for his real estate projects since 1980. The Times also reports Trump successfully sued three mayoral administrations when the city sought to deny him tax breaks for a pair of Trump skyscrapers.
George H.W. Bush Reportedly Voting for Hillary Clinton
In more campaign news, former President George H.W. Bush may be voting for Hillary Clinton in the fall. The news comes from Kathleen Kennedy Townsend, who posted on Facebook a picture of herself with President Bush and the words: "The President told me he's voting for Hillary!!"
Oklahoma: Police Release Video of Cop Fatally Shooting Black Man with Hands in the Air
In Tulsa, Oklahoma, police have released a video showing a white police officer shooting and killing unarmed 40-year-old African American Terence Crutcher while his hands were in the air. Officer Betty Shelby shot Crutcher around 8 p.m. on Friday, after his car broke down. Some of the video released Monday came from police helicopter footage, in which one can hear the man in the helicopter saying about Crutcher, "That looks like a bad dude, too." Other footage from police dash cam video shows Crutcher walking away from officers with his hands in the air, then putting his hands on the side of his own car, as he's surrounded by officers. The video captures a voice coming over the police radio saying, "He's just been tasered," and then a woman's voice yelling "Shots fired," as the video shows Crutcher's arms falling to the pavement. The Justice Department says it's investigating the shooting as a possible civil rights violation.
Largest Prison Strike in U.S. History Enters Third Week
The largest prison work strike in U.S. history has entered its third week. The Intercept reports that as of last week at least 20 prisons in 11 states continued to protest, including in Alabama, California, Florida, Indiana, Louisiana, Michigan, New York, Ohio, South Carolina and Washington. The Incarcerated Workers Organizing Committee says at one point about 20,000 prisoners were on strike. With protest has come punishment. Several facilities were put on lockdown, with prisoners kept in their cells and denied phone access both before and during the strike. Organizers were also put in solitary confinement. Meanwhile, members of the Free Alabama Movement say a serious humanitarian crisis is developing at Holman prison, where guards have been walking off the job amid safety concerns and overcrowding. Prisoners say there are stabbings on a regular basis, and call the facility "the slaughterhouse." A guard stabbed by a prisoner earlier this month died last week. The warden was stabbed in March.
Peru: Goldman Prize Winner Injured by Hit Man During Clash with Security Guards
And in Peru, an activist who won this year's prestigious Goldman Environmental Prize has been injured in a clash with security guards. The incident took place Sunday at a gold mine run by a subsidiary of the U.S.-based mining giant Newmont. Máxima Acuña has tried to block the company Yanacocha from constructing an open-pit gold mine in an agricultural area, where it could contaminate the water supply and cause water shortages for thousands of people. Supporters say Acuña and her partner were severely hurt after an attack by hit men allegedly hired by the mining company. This is her daughter, Ysidora Chaupe.
Ysidora Chaupe: "The mining company's security grabbed her by the hands. In other words, they held her hostage. And when she asked for help, she yelled. She wanted to defend herself by herself, but they attacked her, scratched her on her body. And she says they threw her, pushed her. And when they pushed her, she fell, and she fainted."
---
Courtesy of Democracy Now (www.democracynow.org).  The original content is licensed under a Creative Commons Attribution-Noncommercial-No Derivative Works 3.0 United States License.