Charlotte, NC: Police Release Videos of Keith Lamont Scott Killing
In North Carolina, Charlotte-Mecklenburg police have released two videos of Tuesday's police shooting of 43-year-old African American Keith Lamont Scott. One of the videos is from a police dashboard camera, and the other is from an officer's body camera. The dashboard camera video shows Scott exiting his vehicle and taking steps backward with his arms at his sides. Police fire four shots at Scott, and he falls to the ground. The body camera video shows Scott on the ground after being shot. The Charlotte police have also released pictures of a handgun, marijuana and an ankle gun holster they say were in Scott's possession. But even the police chief admits the videos do not show Scott clearly holding a gun. North Carolina is an open-carry state. Scott family attorney Justin Bamberg responded to the footage Sunday.
Justin Bamberg: "What we see when we look at this dash cam video is Mr. Scott steps out of the vehicle. He doesn't appear to be acting aggressive towards any of the law enforcement officers on the scene. He doesn't appear to be making gestures or motions as though he's arguing with anybody. He doesn't lunge at the officers. It appears he has his hands by his side."
On Friday, NBC News also obtained cellphone video capturing the shooting, filmed and narrated by Scott's wife, Rakeyia Scott. In the video, she tells officers that her husband is unarmed and suffers from a traumatic brain injury, or TBI.
Rakeyia Scott: "He doesn't have a gun. He has a TBI."
Police officer: "Drop the gun!"
Rakeyia Scott: "He's not going to do anything to you guys. He just took his medicine."
Police officer: "Drop the gun! Let me get a [bleep] baton over here."
Rakeyia Scott: "Keith, get out the car. Keith, Keith! Don't you do it. Don't you do it. Keith! Keith! Keith! Don't you do it! [bleep]! Did you shoot him? Did you shoot him? Did you shoot him?"
Police Arrest Charlotte Man in Protester Justin Carr's Death
Meanwhile, Charlotte police have arrested a man they accuse of shooting and killing a protester during demonstrations over Keith Lamont Scott's death. Twenty-six-year-old Justin Carr was apparently shot in the head near a line of riot police during protests last Wednesday in uptown Charlotte. He died in the hospital on Thursday. On Friday, officers charged Rayquan Borum with Carr's murder. Charlotte Police Chief Kerr Putney said extensive video evidence was used to identify Borum, though the department has not made those videos public. Several eyewitnesses dispute the police's explanation. Charlotte public defender Eddie Thomas told The Guardian he believes the protester was shot by a tear gas canister, pepper ball or other police projectile that caused him to stumble back and hit his head on the brick sidewalk. But Daily Beast reporter Ryan James says he witnessed a civilian firing a pistol into a crowd, leaving Carr lying on the ground in a pool of blood.
Protests Continue Across Charlotte for Sixth Straight Day
Meanwhile, hundreds continued to protest for a sixth straight day in Charlotte. Uniformed National Guard soldiers carrying rifles were deployed outside a Carolina Panthers football game, while police in riot gear surrounded about 100 demonstrators who were chanting "Black Lives Matter." On Sunday evening, Charlotte Mayor Jennifer Roberts lifted the curfew that had been in place since Thursday.
Tulsa: Hundreds Pack Funeral of Terence Crutcher, Man Shot by Police
In Tulsa, Oklahoma, hundreds packed the Antioch Baptist Church on Saturday for the funeral of Terence Crutcher, a 40-year-old African-American man who was shot dead by a police officer on September 16. Crutcher was remembered by his cousin, Shea Seals.
Shea Seals: "Terence's death is being mourned by an entire city. He was that special. The irony here is that Terence loved everyone. He had the incredible gift of putting others before himself."
Police video showed Crutcher being shot while his hands were in the air. His family says hisSUV stalled as he was driving home from a music appreciation class. The killing sparked protests across the country. Officer Betty Shelby was booked and released last week on felony manslaughter charges for Crutcher's death. If convicted, Shelby faces between four years and life in prison.
National Museum of African American History and Culture Opens
In Washington, D.C., thousands gathered on the National Mall Saturday as the country's first black president helped dedicate the National Museum of African American History and Culture. President Barack Obama and first lady Michelle Obama joined the daughter of an enslaved person, 99-year-old Ruth Bonner, ringing a bell to signal the opening of the museum. The 400,000-square-foot museum will house some 37,000 artifacts, including relics from a slave ship, a shawl owned by Harriet Tubman, Emmett Till's casket, shards of glass from the 1963 Birmingham church bombing, a dress owned by Rosa Parks, Louis Armstrong's trumpet and Muhammad Ali's boxing gloves. President Obama said the museum helps to tell a richer and fuller story of who Americans are.
President Barack Obama: "By knowing this other story, we better understand ourselves and each other. It binds us together. It reaffirms that all of us are America, that African-American history is not somehow separate from our larger American story, it's not the underside of the American story, it is central to the American story."
Clinton and Trump Debate Could Be Most Watched in U.S. History
In news from the campaign trail, Donald Trump and Hillary Clinton are set to face off tonight in what's expected to be the most watched presidential debate in U.S. history. Some TV network executives predict as many as 100 million people will tune in. Third-party candidates, including Libertarian Gary Johnson and the Green Party's Jill Stein, will be excluded under stringent rules set by the Commission on Presidential Debates, which is controlled by the Democratic and Republican parties. Tonight's 90-minute debate will be held at Hofstra University on Long Island. NBC Nightly News anchor Lester Holt will serve as moderator. Ahead of the debate, Hillary Clinton's campaign said Holt should act as a fact checker and call out Trump's lies and false statements. This is Clinton campaign manager Robby Mook speaking Sunday on ABC's "This Week."
Robby Mook: "All that we're asking is that if Donald Trump lies, that it's pointed out. It's unfair to ask for Hillary both to play traffic cop with Trump, make sure that his lies are corrected, and also to present her vision for what she wants to do for the American people."
Trump campaign manager Kellyanne Conway fired back, telling ABC, "I really don't appreciate campaigns thinking it is the job of the media to go and be these virtual fact checkers and that these debate moderators should somehow do their bidding." The head of the Commission on Presidential Debates later agreed that moderators should not fact-check during debates. This is the commission's executive director, Janet Brown, speaking on CNN.
Janet Brown: "If you start getting into fact checking, I'm not sure what is a big fact, what's a little fact, and if you and I have different sources of information, does your source about the unemployment rate agree with my source? I don't think it's a good idea to get the moderator into essentially serving as the Encyclopedia Britannica."
Donald Trump had said that the moderator of tonight's debate, Lester Holt of NBC News, is a Democrat. In fact, he's a registered Republican. Meanwhile, Donald Trump also said Saturday he might bring Gennifer Flowers to sit in the front row of tonight's debate. Flowers had an affair with Bill Clinton in the 1970s. The Trump campaign later said it had not extended an invitation to Flowers and that she would not attend.
Ted Cruz Endorses Trump Despite Bitter Rivalry
Texas Senator Ted Cruz has endorsed Donald Trump for president. Friday's endorsement came despite a bitter primary season that saw the pair hurl invective at one another. During the campaign, Trump suggested Cruz's wife was not as attractive as his own, and linked Ted Cruz's father to the plot to assassinate President John F. Kennedy. Cruz previously called Trump a "pathological liar," a "narcissist," a "bully," "utterly amoral" and someone who "lies practically every word that comes out of his mouth." In July, Cruz was booed off the RNCstage after telling delegates to "vote your conscience" rather than voicing support for Trump. But on Friday, Cruz said prayer and careful consideration led him to an endorsement, citing Trump's likely Supreme Court nominees.
Israeli PM Netanyahu Meets Trump, Clinton in New York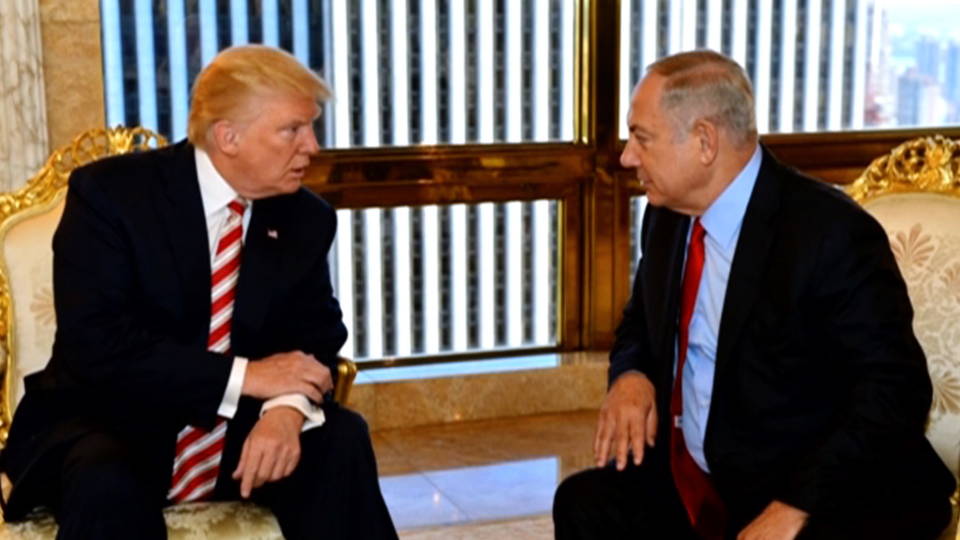 Israeli Prime Minister Benjamin Netanyahu met with Hillary Clinton and Donald Trump on Sunday in closed-door meetings. Trump hosted Netanyahu at his New York penthouse, where his campaign said Trump compared Israel's separation wall favorably with his proposed wall along the Mexican border. Netanyahu later met with Hillary Clinton, whose campaign said she expressed support for the new U.S. military aid package to Israel of $38 billion over 10 years.
New York: Gov. Andrew Cuomo Aides Indicted for Bribery, Corruption
New York Governor Andrew Cuomo is seeking to distance himself from a corruption scandal that saw two of his closest aides indicted last week on federal corruption charges. Prosecutors say Joseph Percoco and Todd Howe took bribes, using their positions to help companies receive hundreds of millions of dollars in state contracts and other official state benefits. Both are proclaiming their innocence. Cuomo said over the weekend he wasn't in charge of the contracts involved and that he had "no idea" about the alleged bribery and contract rigging laid out by prosecutors.
Brazil: President Temer Under Investigation for Corruption
Brazil's Supreme Court has opened a corruption investigation into newly installed President Michel Temer. The inquiry stems from allegations Temer solicited bribes in return for contracts with Brazil's oil company Petrobras. Temer was sworn in three weeks ago, after lawmakers voted to impeach his predecessor, President Dilma Rousseff. On Thursday, Temer told business and foreign policy leaders in New York that he worked to impeach Rousseff after she refused to implement his party's economic plan, which included cuts to health, education and welfare spending. That contradicts the official reason for her impeachment—accusations she tampered with government accounts to hide a budget deficit.
Britain: Jeremy Corbyn Wins Re-election as Labour Party Leader
In Britain, Jeremy Corbyn will remain head of the Labour Party after winning 62 percent of the vote in a leadership contest. The win strengthens Corbyn's position as head of Labour, which has grown dramatically under his leadership to more than 500,000 members.
Washington State Police Charge Man with Mass Murder
In Washington state, 20-year-old Arcan Cetin will be arraigned on murder charges today after a shooting spree in a Burlington shopping mall Friday left five people dead. Cetin used a rifle to fatally shoot four women and a man at a Macy's department store, leaving the weapon at the crime scene. He was arrested on Saturday after police identified him from surveillance video. There's no known motive for the killings.
Iowa: 12 Arrested at Direct Action Targeting Dakota Access Pipeline
In southeastern Iowa, 12 activists were arrested Saturday as they disrupted efforts by the Dakota Access pipeline company to drill under the Mississippi River, fearing a possible oil spill could contaminate the water. Three of the protesters chained themselves to a backhoe just before the start of the workday, delaying construction at the site for several hours. They were charged with criminal trespass and interference with official acts.
Berks Detention Center: Detainees Say Asylum Seeker Denied Adequate Healthcare
And in news from the Berks Family Detention Center in Pennsylvania, a woman from El Salvador who has been detained for 400 days reportedly fainted last week after she suffered headaches, dizziness and vomiting. She was taken to a hospital Thursday to undergo gall bladder surgery, only to be returned to detention on Friday. Her fellow Berks detainees issued a statement Saturday that the woman had no nurse to tend to her in her room and was relying on her two teenage daughters who are detained with her. They say the woman's prescribed medical diet has yet to be approved and that she wasn't allowed a visit with her sister because she was in too much pain to walk down stairs to the visiting room. Women at Berks have called for the mother to be "immediately let go so that she can be taken care of by actual trained and professional staff." Officials have so far refused to release the mother and the two girls while their asylum claim is being appealed in federal court.
---
Courtesy of Democracy Now (www.democracynow.org).  The original content is licensed under a Creative Commons Attribution-Noncommercial-No Derivative Works 3.0 United States License.