San Diego: Protests Continue over Police Killing of Alfred Olango
Protests continued Wednesday in the San Diego, California, suburb of El Cajon, where police shot and killed an unarmed African-American man Tuesday after his sister called 911 to report her brother was having a mental health emergency. Eyewitnesses in El Cajon said Alfred Olango was holding his hands up when he was tased by one police officer and then fired upon five times by another officer. Police initially said they fired when Olango pulled out an object. On Wednesday, the police admitted that this object was, in fact, an e-cigarette. This is protester Asaac Ali.
Asaac Ali: "It's not just about how I'm feeling about it. It is about how America feel about it, because police are terrorizing America, each and every state. They're killing people each and every corner. This is a time for America to look into it. This is not ISIS in the Middle East. We have one here: Police are a terrorist, killing people more than ISIS. That's what we need to look at it, really careful."
This comes as questions are being raised about El Cajon police officer Richard Gonsalves, one of the officers involved in Olango's shooting. Last year, Gonsalves was sued for sexual harassment after making lewd propositions and texting explicit photos to his subordinate officer. He was demoted to officer from sergeant. Gonsalves was just served with a second suit in August of this year, after the harassment continued. We'll go to San Diego for more, after headlines.
Louisiana: Newly Released Video Shows Cops Killing 6-Year-Old Boy
Meanwhile, in Louisiana, a judge has released body camera video showing police officers shooting into a car and killing a six-year-old child in September 2015. The boy, Jeremy Mardis, was in first grade. He was killed on site after being hit by five bullets. Authorities say the marshals began chasing the car after seeing an argument between a man and a woman. When the car chase ended at a dead-end street, the marshals approached the car and opened fire. The video shows the driver, Christopher Few, with his hands in the air. The Louisiana State Police superintendent said the video is "the most disturbing thing I've seen." Two U.S. marshals involved in the shooting are on trial facing second-degree murder charges.
Congress Overrides Obama's Veto on Suing Saudi Arabia over 9/11
In Washington, D.C., Congress has voted overwhelmingly to allow Americans to sue Saudi Arabia over the 9/11 attacks—overriding President Obama's veto of the bill. It's the first time during Obama's presidency that his veto has been overridden by Congress. The Senate rejected the veto 97 to 1, while the House rejected it 348 to 77. This means the Justice Against Sponsors of Terrorism Act now becomes law. This legislation would allow courts to waive claim of foreign sovereign immunity after an act of terrorism occurs within U.S. borders. This is President Obama speaking to CNN Wednesday.
President Barack Obama: "If we eliminate this notion of sovereign immunity, then our men and women in uniform around the world could potentially start seeing ourselves subject to reciprocal laws. And the concern that I've had has nothing to do with Saudi Arabia per se or my sympathy for 9/11 families; it has to do with me not wanting a situation in which we're suddenly exposed to liabilities for all the work that we're doing all around the world."
The bill had passed both the House and the Senate earlier this year, but President Obama had vetoed it earlier this month. In July, the Obama administration declassified 28 pages from the September 11 report detailing possible ties between the Saudi government and the 9/11 attacks. The declassified documents raise new questions about the role of a Saudi consular official based in the Los Angeles area. He personally helped two of the hijackers after they arrived in Los Angeles in early 2000. Fifteen of the 19 9/11 hijackers were from Saudi Arabia.
Newsweek: Trump Illegally Violated U.S. Embargo on Cuba
In news from the campaign trail, a new investigation by Newsweek reveals that one of Donald Trump's businesses violated the U.S. embargo on Cuba and secretly did business there in the late 1990s. The investigation draws on internal company documents showing Trump's company, then called Trump Hotels & Casino Resorts, spent at least $68,000 in Cuba during a secret business trip to Havana. At the time, it was illegal under U.S. law to spend any corporate money in Cuba. The investigation also reveals that Trump had knowledge of top executives working to cover up the illegal expenditures. Only one year later, Trump wrote in an op-ed in the Miami Herald in 1999: "I would rather take a financial hit than become a financial backer of one of the world's most brutal dictators. … Of course we should keep the embargo in place."
Forbes: Donald Trump Lost $800 Million Last Year
Meanwhile, Forbes magazine is reporting that Donald Trump has lost at least $800 million in personal wealth since 2015. Forbes estimates Trump's net worth is now about $3.7 billion.
Gary Johnson Couldn't Name Single Foreign Leader During Town Hall
In more news from the campaign trail, Libertarian presidential nominee Gary Johnson stumbled during a town hall interview on MSNBC Wednesday night, when host Chris Matthews asked him to name his favorite foreign leader—and Johnson couldn't name a single one. Instead, he said he was having an "Aleppo moment"—referring to an earlier interview when he was asked about what he would do to stop the devastating bombing against the major Syrian city, and he responded by asking, "What is Aleppo?" This is Johnson on Wednesday.
Chris Matthews: "Who's your favorite foreign leader?"
Gary Johnson: "Who's my favorite—"
Chris Matthews: "Any. Just name anywhere in the—any one of the continents, any country. Name one foreign leader that you respect and look up to. Anybody."
William Weld: "Mine was Shimon Peres."
Chris Matthews: "No, no, OK. I'm talking about living. Go ahead. You've got to do this. Anywhere. Any continent. Canada. Mexico. Europe, over there. Asia. South America. Africa. Name a foreign leader that you respect."
Gary Johnson: "I guess I'm having an Aleppo moment in the former—former president of Mexico."
Chris Matthews: "But I'm giving you the whole world!"
Gary Johnson: "I know. I know. I know. I know."
Chris Matthews: "Anybody in the world you like. Anybody. Pick any leader."
Gary Johnson: "The former president of Mexico."
Chris Matthews: "Now—which one?"
Gary Johnson: "I'm having a brain—I'm having a brainfreeze."
Chris Matthews: "Well, name anybody."
Officials Say They've Identified Two Men Who Found Bag with Unexploded Bomb
In New York, authorities say they have identified the two men who found a bag containing an unexploded bomb placed on 27th Street in Chelsea earlier this month during the bombings in New York and New Jersey. Authorities say video shows the two men taking the items out of the bag and then walking off with the bag itself. Police described the bag's contents as a pressure cooker bomb connected to a flip phone, packed with shrapnel and wired to detonate. Authorities say the two men have now been identified as Egyptians who were visiting New York and have since returned to Egypt. Authorities do not think the men have anything to do with the bombings. This comes as the main suspect in the bombings, Ahmad Khan Rahami, has retained the American Civil Liberties Union to represent him, after judges in both New York and New Jersey rejected efforts by public defenders seeking to represent Rahami. The head of the ACLU in New Jersey, Udi Ofer, said the judges' move "violates the Constitution and needlessly sacrifices civil liberties in the name of national security."
Ex-Ally to Chris Christie Says Gov. Knew of G.W. Bridge Lane Closure Plan
In more political news, New Jersey Governor Chris Christie is again under fire over the George Washington Bridge lane closures. Prosecutors say Christie's top aides conspired to create a traffic jam to punish the mayor of Fort Lee for failing to endorse Christie's re-election in 2013. Now, a former Port Authority official and former ally to Christie, David Wildstein, has testified in federal court that Christie knew all about the plan ahead of time. Wildstein says Christie was told about the plan two days before the lane closures began during a September 11 memorial service—and that Christie laughed at the idea.
Congress Passes Bill to Avoid Gov't Shutdown
In Washington, Congress has passed legislation to avoid a government shutdown—only two days before the agencies were expected to run out of money. The measures now keep the federal government funded through December 9. The package includes $1.1 billion to respond to the Zika virus and $500 million of aid for flooding in Louisiana.
Somalia: Officials Say U.S. Airstrike Killed 20 Somali Soldiers
In Somalia, officials say a U.S. airstrike has mistakenly killed more than 20 Somali soldiers. The security minister of Somalia's Galmudug region says the U.S. strikes were requested by officials in a rival region, who told the U.S. the strikes were targeting al-Shabab militants. The Pentagon says it's investigating the incident, but has claimed at least nine al-Shabab fighters were killed in the strike.
South Carolina: 14-Year-Old Kills Father, Shoots 3 at Elementary School
In South Carolina, a 14-year-old boy shot and killed his father and then went on a shooting rampage in the playground of the Townville Elementary School in Anderson County, about 100 miles from Atlanta, on Wednesday. He shot and injured two boys, as well as a teacher, before being arrested. One of the boys, who was shot in the leg, is in critical condition. The shooter has not been named.
South Korea: 40,000+ Unionized Workers Stage One-Day Strike
In South Korea, as many as 40,000 unionized workers staged a one-day strike Thursday to protest the government's attempts to enact legislation tying salaries to productivity rather than seniority. This is one of the union organizers.
Park Joon-Hyoung: "About 60,000 workers from all over the country went on strike today, and about 50,000 workers joined the rally here. We demand a stop to adopting the illegal wage system based on performance, pushed by the government. It will hurt the people."
Mexico: Iguala Marks 2nd Anniversary of 43 Students' Disappearance
In news from Mexico, about a thousand people marched in the town of Iguala to mark the second anniversary of the kidnapping of 43 students from the Ayotzinapa teachers' college. The students were attacked by local police and subsequently went missing in the southern Mexican state of Guerrero. This is José Nava García, a student who survived the attack.
José Nava García: "We are here to demand justice, because we don't forget. We, as attack survivors of Ayotzinapa, we are constantly aware of our disappeared classmates, because that night the police were unfortunately waging an all-out war on us, a war without mercy. They waged war on us, and we didn't at this time understand what was happening. We were just freshmen."
Meanwhile, in the bordering state of Michoacán, police have arrested at least 47 students from another teachers' college, after a confrontation with police clad in riot gear. Police say the students had stolen buses. Some news reports say police fired at the students during the confrontation. On Wednesday, fellow students blocked highways to demand their classmates be released.
21 Arrested Resisting Construction of Dakota Access Pipeline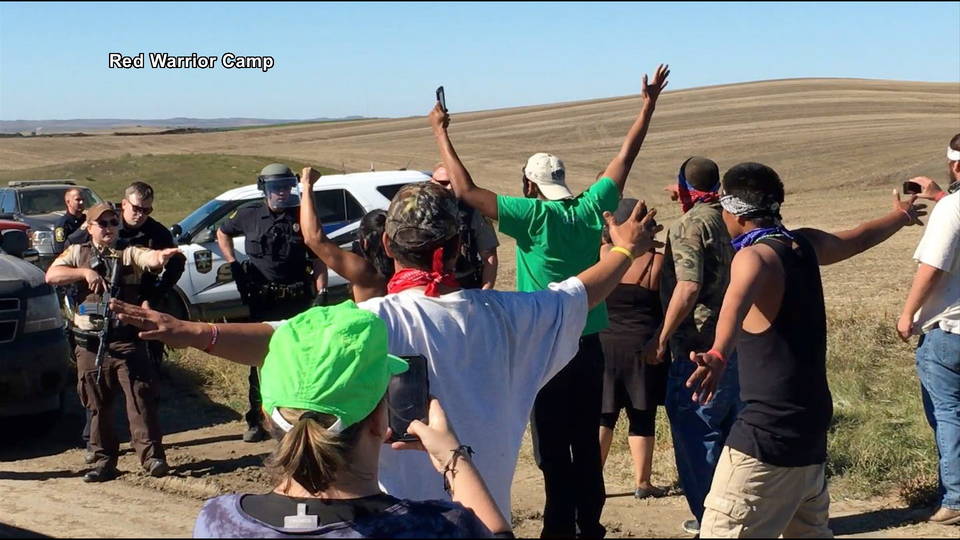 And in North Dakota, 21 people were arrested Wednesday by police in riot gear, while the group was conducting Native American ceremonies to block construction of the $3.8 billion Dakota Access pipeline. The pipeline has faced months of resistance from the Standing Rock Sioux Tribe and members of hundreds of other tribes from across the U.S., Canada and Latin America. Land defenders say police carrying assault rifles responded to the ceremonies with armored vehicles, tear gas and helicopters. This is a Sicangu Lakota grandmother.
Land defender: "We had a really nice ceremony. And then we looked, and over that way, and the police—there was a few police. And the next thing I knew, there were like 40 police, and they were all dressed in riot gear. We did exactly what we were told to do, except the ones who were in the road, just to tell everybody, 'Keep moving. Keep moving. Keep moving.' And I've never in my life seen a gun in real life. And I've never had a gun pointed at me. And we all went—I went into shock."
---
Courtesy of Democracy Now (www.democracynow.org).  The original content is licensed under a Creative Commons Attribution-Noncommercial-No Derivative Works 3.0 United States License.