U.N. Calls Aleppo a "Humanitarian Catastrophe" as Ceasefire Talks Fail
In Syria, Russian and Syrian warplanes continued a heavy bombing campaign in Aleppo, while troops massed east of the city and the United Nations warned of a humanitarian catastrophe. At least 100,000 children remain trapped in the eastern part of Aleppo, where the U.N. says food is nearly exhausted for more than a quarter-million people. U.N. humanitarian chief Stephen O'Brien told the Security Council that Aleppo had descended into a "merciless abyss of humanitarian catastrophe."
Stephen O'Brien: "The only remaining deterrent, it seems, is that there will be real accountability in the court of world opinion and disgust. Goodness knows, nothing else seems to be working to stop this deliberate, gratuitous carnage of lives lost and smashed."
A U.S.- and Russian-brokered ceasefire in early September began unraveling two weeks ago, after a U.S.-led airstrike killed dozens of Syrian troops in what officials called an accident. Russian diplomats on Thursday rejected a U.S. call for a seven-day pause in bombing to allow humanitarian aid into Aleppo, instead offering weekly 48-hour ceasefires. Secretary of State John Kerry said he was considering cutting off all talks with Russia over the crisis.
Secretary of State John Kerry: "No, I think we're on the verge of suspending the discussion, because, you know, it's irrational in the context of the kind of bombing taking place to be sitting there trying to take things seriously."
Meanwhile, Russian officials are condemning comments by U.S. State Department spokesperson John Kirby, who said this week that Russia's bombing campaign could lead to terror attacks in Russian cities and Russian troops being shipped home in body bags. Kremlin spokesperson Dmitry Peskov said the statement amounted to U.S. support for terrorism.
India Evacuates Thousands After Strikes Kill Pakistani Soldiers in Kashmir
In Kashmir, Pakistan is vowing to defend itself against what it calls Indian aggression, after two of its soldiers were killed in cross-border fighting Thursday. India says it launched "surgical strikes" against militants in the disputed "line of control" region between Indian- and Pakistani-controlled Kashmir. Pakistan's prime minister called an emergency Cabinet meeting over the latest fighting, which comes less than two weeks after an attack on an Indian army base killed 18 soldiers. India has ordered the evacuation of thousands of people in villages near its border with Pakistan.
Israel: World Leaders Attend Funeral of Former PM Shimon Peres
In Israel, world leaders gathered Friday for the funeral of former Prime Minister Shimon Peres, who died in Tel Aviv on Wednesday at the age of 93. Among those paying tribute was President Barack Obama.
President Barack Obama: "I don't believe he was naïve, but he understood from hard-earned experience that true security comes through making peace with your neighbors. 'We won them all,' he said of Israel's wars, 'but we did not win the greatest victory that we aspired to: release from the need to win victories.'"
Palestinian Authority President Mahmoud Abbas attended the funeral, where he briefly shook hands and exchanged words with Israeli Prime Minister Benjamin Netanyahu. In 1994, Peres won the Nobel Peace Prize for helping negotiate the Oslo Accords. He was prime minister in 1996 when Israeli forces shelled a refugee camp in Qana, Lebanon, killing 106 people and injuring 116 others. Peres was also a leading advocate for the building of Jewish settlements in the occupied West Bank and Gaza. His slogan was "Settlements everywhere."
New Jersey: Hoboken Train Crash Kills One and Injures Over 100
In Hoboken, New Jersey, at least one person was killed and more than 100 injured, many critically, after a commuter train hurtled through a station and crashed through a wall during the morning rush on Thursday. Witnesses described a horrific scene of bloodied bodies and twisted metal. Eyewitness William Blaine said the crash sounded like a bomb.
William Blaine: "So I ran out. When I looked to the right, I just saw bodies. And I saw debris, iron. And so I looked, and I saw dust in this guy's hair. He tried to get up. I saw another person bleeding, and so I went to help them out, but a couple other people got to them first to help them. So I looked over, and that's when I saw the train in the wall. It just blew my mind."
Officials are still investigating why the New Jersey Transit train failed to brake as it approached the Hoboken terminal, but they're treating the disaster as an accident. The train did not have Positive Train Control, a technology that can automatically stop a train that is in danger of derailment or a collision. New Jersey Transit was supposed to have implemented the technology by the end of 2015 under a congressional mandate passed in 2008, but was granted a three-year extension after the railroad industry lobbied successfully for a delay.
Climate Scientists: Earth on Track for 2°C Temperature Rise by 2050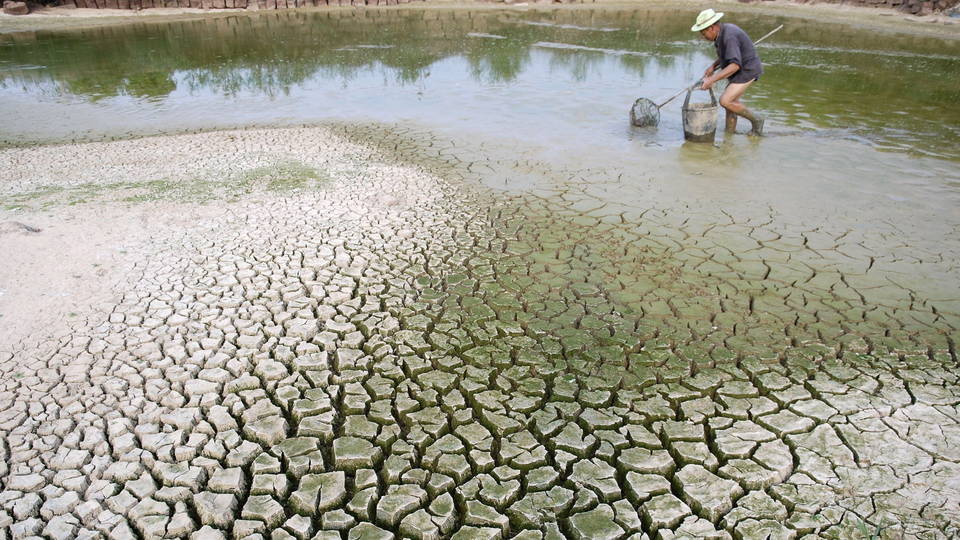 In news of global warming, a new analysis by top climate scientists finds the Earth's average temperature is on track to increase by 2 degrees Celsius––or 3.6 degrees Fahrenheit––by mid-century, unless governments take dramatic steps to limit greenhouse gas emissions. The study finds that current pledges to combat climate change under a U.N. agreement crafted in Paris last December fall far short of preventing a temperature rise of 1.5 degrees Celsius, one of the agreement's goals. The study was led by the U.N.'s former top climate scientist, Robert Watson, who said governments need to double or triple their efforts to meet the Paris target.
Earth's Atmosphere Passes 400 Parts Per Million of Carbon Dioxide
Meanwhile, the Mauna Loa Observatory in Hawaii reports atmospheric carbon dioxide levels have topped 400 parts per million throughout 2016 and are unlikely to fall below that level for the foreseeable future. That's far above the 350 parts per million considered by many climate scientists to be the safe limit.
ExxonMobil Lawsuit Cites Decades-Long Cover-Up of Climate Change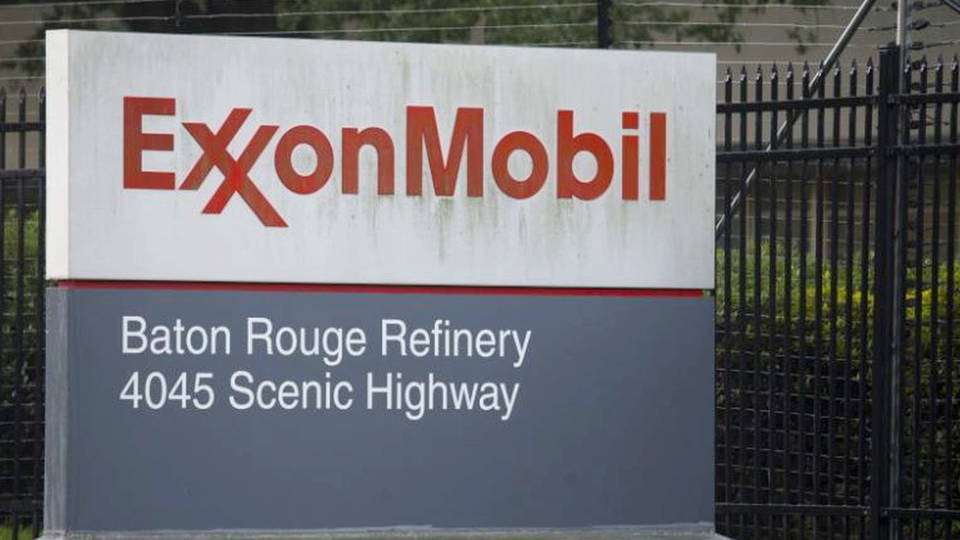 In other climate-related news, a new federal lawsuit takes aim at ExxonMobil in what advocates say is the first legal action targeting the oil giant for its decades-long cover-up of climate change. The suit, by the environmental group Conservation Law Foundation, charges ExxonMobil continues to pollute the Island End and Mystic rivers near Boston, in part by failing to fortify a storage facility to withstand rising seas and extreme weather caused by climate change. Last year, InsideClimate News and the Los Angeles Times revealed that for decades, beginning in 1977, Exxon concealed its own findings that fossil fuels cause global warming, alter the climate and melt Arctic ice.
El Cajon, CA: Family of Unarmed Ugandan Refugee Killed by Police Calls for Protests, Video Release
In the San Diego suburb of El Cajon, California, the family of Alfred Olango, a Ugandan refugee shot dead by police on Tuesday, is calling for peaceful protests and the release of a video showing the killing. Olango's mother, Pamela Benge, said her son was distraught over the recent death of a friend and was having a mental breakdown on Tuesday when police confronted him. She says officers should have helped her son, but instead opened fire. Benge said her family arrived in the U.S. in 1991 as refugees seeking to escape violence.
Pamela Benge: "We have come from a war zone. We wanted protection. That's why we're here. I wanted the children not to be running around, being in fear every night, sleeping in the bush. And that's why we're here. Yes? Being a refugee, I know there are millions of refugees that are here, just seeking for a better place, a safety place. That's all—safety. We wanted just to be safe. But now, I ask the question: Where should we go? I don't know."
Olango's family and supporters are demanding the release of a cellphone video recorded by a bystander that captured the killing.
New York: Undercover Officers Spied on Black Lives Matter Activists
In New York, newly released court papers reveal the city's police department has secretly recorded Black Lives Matter protesters since the death of Eric Garner in 2014, sending undercover officers to demonstrations. The disclosure came as the NYPD refused to make public videos, photos and other records requested under the Freedom of Information Act. Lawyers seeking the records say the surveillance could violate the First and Fourth Amendments. They say the NYPD may have also violated so-called Handschu guidelines, which bar the NYPD from spying on protesters for solely political reasons. In August of 2015, The Intercept reported that New York transit police also spied on Black Lives Matter protesters.
Wells Fargo CEO Grilled at House Hearing over Fake Account Scandal
In financial news, the CEO of Wells Fargo was grilled by lawmakers on Capitol Hill on Thursday over a scandal that saw thousands of employees use private customer information to create 2 million fake accounts in order to meet sales targets. CEO John Stumpf apologized to the House Financial Services Committee and said his bank will eliminate sales quotas for employees beginning on October 1. Earlier this week, the bank took back $41 million in stock awarded to Stumpf. That did little to appease lawmakers, including New York Democratic Representative Carolyn Maloney, who noted Stumpf sold $13 million worth of Wells Fargo stock in 2013.
Rep. Carolyn Maloney: "So my question is: Did you dump $13 million of Wells Fargo stock, which you did through your family trust, right after you found out that your bank had been fraudulently opening hundreds of thousands of scam accounts, ripping off your customers?"
John Stumpf: "I sold those shares, and I sold them with proper approvals with no view about anything that was going on with sales practices or anything else."
Earlier this month, Stumpf appeared before the Senate Banking Committee, where Massachusetts Democrat Elizabeth Warren accused him of "gutless leadership" and said he should be criminally investigated.
USA Today Editorial Board: Donald Trump Unfit For Presidency
In news from the campaign trail, the editorial board of USA Today has declared Republican nominee Donald Trump unfit for the presidency. It's the first time in its history that the country's highest-circulation newspaper has taken sides in a presidential race. This is USAToday editorial page editor Bill Sternberg.
Bill Sternberg: "The unanimous consensus of the board is that he lacks the temperament, the knowledge, maturity, steadiness, that America needs in its president."
The USA Today editorial board wrote of Trump, "He is erratic. ... He is ill-equipped to be commander in chief. ... He traffics in prejudice. ... His business career is checkered. ... He isn't leveling with the American people. ... He speaks recklessly. ... He has coarsened the national dialogue. ... He is a serial liar." USA Today has not endorsed Hillary Clinton or any other candidate.
Hillary Clinton: Donald Trump Apparently Broke Cuban Embargo
In other campaign news, Democratic nominee Hillary Clinton said Thursday that Donald Trump appeared to violate U.S. law by attempting to do business in Cuba. Clinton was referring to an investigation by Newsweek that revealed a Trump company violated the U.S. embargo against Cuba in 1998, spending at least $68,000 during a secret business trip to Havana. The investigation also reveals that Trump had knowledge of top executives working to cover up the illegal expenditures.
Philippines' Duterte Likens Himself to Hitler, "Happy to Slaughter" Millions of Drug Addicts
And in the Philippines, President Rodrigo Duterte said today he'd be happy to slaughter drug addicts just like Adolf Hitler massacred millions of Jews during the Holocaust. Duterte made the remarks during a rambling speech after returning from a trip to Vietnam.
President Rodrigo Duterte: "Hitler massacred 3 million Jews. Now, there is 3 million—what is it? Three million drug addicts, there are. I'd be happy to slaughter them. At least if Germany had Hitler, the Philippines would have [me]. You know, my victims, I would like to be all criminals, to finish the problem of my country and save the next generation from perdition."
A wave of extrajudicial killings in the Philippines has claimed thousands of lives since Rodrigo Duterte became president in June. Duterte vowed during his campaign to crack down on drug users just like he did as the longtime mayor of the city of Davao, where his strongman tactics prompted Human Rights Watch to call him the "death squad mayor."
---
Courtesy of Democracy Now (www.democracynow.org).  The original content is licensed under a Creative Commons Attribution-Noncommercial-No Derivative Works 3.0 United States License.