New Trump Tax Plan Would Aid Billionaires, Add Trillions to Deficit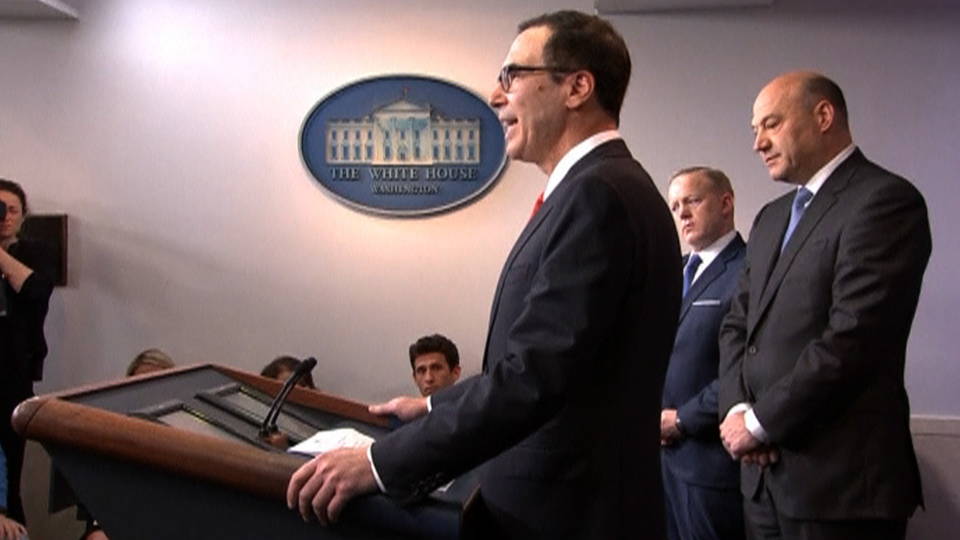 The White House on Wednesday outlined a tax plan that would add trillions of dollars to the U.S. deficit while overwhelmingly benefiting the wealthiest corporations and individuals—including President Trump. The skeletal plan, which the White House unveiled as a single-page document, would lower the corporate tax rate to 15 percent—though corporations rarely pay the current rate of 35 percent. Trump's plan would also end the estate tax, referred to by opponents as the "death tax." This is White House economic adviser Gary Cohn.
Gary Cohn: "We're going to repeal the death tax. The threat of being hit by the death tax leaves small business owners and farmers in this country to waste countless hours and resources on complicated estate planning to make sure their children aren't hit with a huge tax when they die. No one wants to see their children have to sell the family business to pay an unfair tax."
IRS statistics show the estate tax is paid by just the wealthiest 0.2 percent of Americans. Trump's tax plan would also end the alternative minimum tax, a move that would benefit the richest Americans, including President Trump. A leaked 2005 tax return shows Donald Trump paid out $36.6 million in federal income taxes that year—most of it due to the alternative minimum tax. At the White House, Treasury Secretary Steven Mnuchin said the president would not make his tax returns public, even though Trump previously said he would release the returns after a "routine audit."
Reporter: "My second question is: Will the president release his tax returns, so that Americans—"
Treasury Secretary Steven Mnuchin: "The president has no intention. The president has released plenty of information, and I think he's given more financial disclosure than anybody else. I think the American population has plenty of information on this."
Trump's tax proposal would also lower the capital gains tax rate and would decrease the number of income tax brackets from seven to just three, while lowering the tax rate for the wealthiest individuals by nearly 4 percentage points. The plan was blasted by congressional Democrats, including House Minority Leader Nancy Pelosi of California, who called it a "wish list for billionaires." We'll have more on Trump's tax plan after headlines with James Henry of the Tax Justice Network.
U.S. Commander: North Korea Possibly Ready for Nuclear First Strike
The top U.S. commander for the Asia-Pacific region said Wednesday he could not rule out a nuclear first strike by North Korea, telling lawmakers the U.S. was prepared to launch a nuclear counterattack. Admiral Harry Harris was speaking to the House Armed Services Committee.
Adm. Harry Harris: "With every test, Kim Jong-un moves closer to his stated goal of a preemptive nuclear strike capability against American cities. And he's not afraid to fail in public. Defending our homeland is my top priority, so I must assume that Kim Jong-un's nuclear claims are true."
Admiral Harris's remarks came as President Trump summoned nearly every U.S. senator to the White House grounds for an unusual hour-long classified briefing on North Korea.
South Koreans Protest U.S. Deployment of THAAD Anti-Missile System
Meanwhile, U.S. troops began installing a missile defense system known as THAAD in South Korea. The deployment drew protests from hundreds of villagers in Seongju, South Korea, who clashed with police as troops began deploying THAAD hardware on a local golf course. This is protest leader Lee Seok-ju.
Lee Seok-ju: "THAAD is a weapon and can only trigger wars. Negotiation between South Korea and the North is the only way to ease tensions, maintain peace—not by deploying THAAD missiles."
The deployment of THAAD is also opposed by Chinese officials, who say the missile system actually aims to counter China's military power in the region, not to contain North Korea.
FCC Chair Ajit Pai Unveils Plan to End Net Neutrality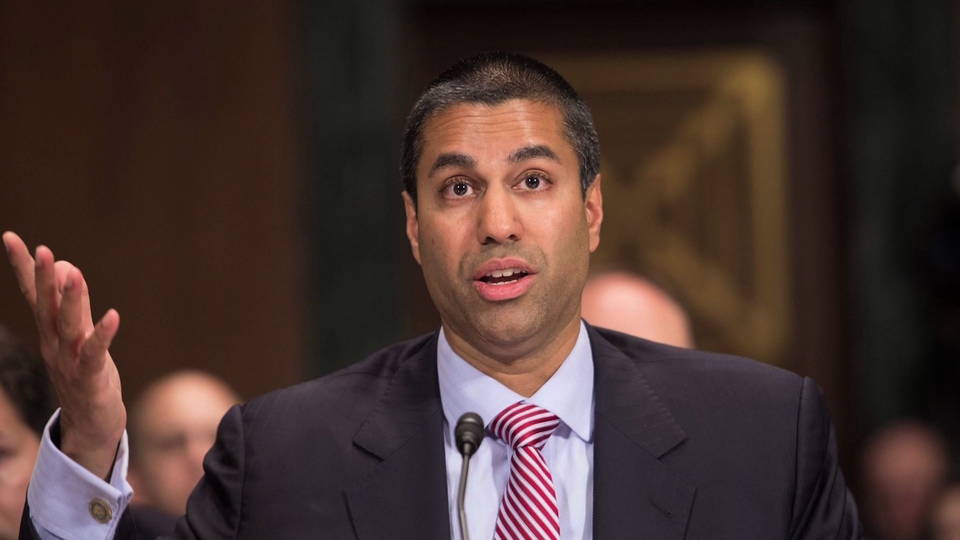 In Washington, D.C., the chair of the Federal Communications Commission on Wednesday outlined a sweeping plan to dismantle net neutrality rules, which seek to keep the internet open and prevent corporate service providers from blocking access to websites, slowing down content or providing paid fast lanes for internet service. FCCChair Ajit Pai unveiled the plan at a forum hosted by FreedomWorks, a right-wing group backed by the billionaire Koch brothers. The plan would end a rule classifying the internet as a public utility, leaving the industry to largely police itself. Evan Greer of the digital rights group Fight for the Future said, "Internet users will fight tooth and nail to defend our basic right to connect, create, learn, and share."
White House Quickly U-Turns on Threat to Withdraw from NAFTA
Executive Order Could Open Millions of Acres to Resource Extraction
President Donald Trump: "The Antiquities Act does not give the federal government unlimited power to lock up millions of acres of land, and water, and it's time that we ended this abusive practice."
Conservationists blasted the Trump administration's unprecedented move to scale back national monuments, and promised legal challenges. Randi Spivak of the Center for Biological Diversity said, "Their goal is to hand our public lands over to corporations to mine, frack, bulldoze and clear-cut till there's nothing left to dig up."
ICE Arrests Undocumented Denver Resident Arturo Hernández García
Turkey Arrests Over 1,000 and Fires 9,000 Police in Massive Purge
Venezuela to Withdraw from the Organization of American States
Venezuela's government said Wednesday it will withdraw from the Organization of American States, accusing the Washington, D.C.-based body of backing violent protests seeking to oust socialist President Nicolás Maduro. This is Samuel Moncada, Venezuela's ambassador to the OAS.
Samuel Moncada: "The Venezuelan people have the right to resolve their internal problems without the guardianship of any of those who are here, of anybody. Much less will Venezuela's destiny ever be decided from Washington. The Venezuelan people fought very hard 200 years ago so that we could decide our own matters in Venezuela. And all Venezuelans, of all colors, are proud of our people and of our freedom."
The OAS has long been criticized as a conservative organization closely aligned with U.S. foreign policy. Venezuela's move to withdraw from the OAS came as opposition parties continued to lead mass street protests across Venezuela. On Wednesday, three more demonstrators were killed in clashes with police, including a 20-year-old student who died after he was shot with a tear gas canister.
Saudi Arabia Elected to U.N. Commission on the Status of Women
At the United Nations, Saudi Arabia will begin a 4-year term in 2018 on the U.N. Commission on the Status of Women, following a secret-ballot election this week. The move drew swift condemnation from critics, including UN Watch executive director Hillel Neuer, who said, "Electing Saudi Arabia to protect women's rights is like making an arsonist into the town fire chief." Saudi women are required to be accompanied at all times by male guardians, who make decisions on marriage, travel, employment and healthcare. Saudi women are barred from holding many jobs and are prohibited from driving cars
Nevada: 7 Arrested at Air Force Base Protesting U.S. Drone Attacks
TV commercial: "U.S. drones have murdered thousands, including women and children. Drone pilots: Please refuse to fly."
Oscar-Winning Filmmaker Jonathan Demme Dies at 73
And the Academy Award-winning director Jonathan Demme has died. Demme was best known for "The Silence of the Lambs" and the 1993 Oscar-winner "Philadelphia"—the first major Hollywood film to take on the AIDS epidemic. Demme directed two documentaries on Haiti: "The Agronomist" and "Haiti Dreams of Democracy." His 2011 film, "I'm Carolyn Parker," documented efforts to rebuild New Orleans's Lower Ninth Ward in the wake of Hurricane Katrina. Jonathan Demme died Wednesday at his home in New York City at the age of 73.
---
Courtesy of Democracy Now (www.democracynow.org).  The original content is licensed under a Creative Commons Attribution-Noncommercial-No Derivative Works 3.0 United States License.