AG Sessions Held Undisclosed Meetings with Russian Ambassador
The Justice Department said Wednesday Attorney General Jeff Sessions met twice last year with Russia's ambassador to the United States, contradicting sworn testimony by Sessions to Congress. The disclosure renewed calls for a special prosecutor to investigate ties between the Trump campaign and Russia's government, and prompted calls from senior Democrats for Sessions to resign. During his confirmation hearing in January to become attorney general, then-Senator Sessions was asked by Minnesota Senator Al Franken whether he knew of contacts between Trump campaign officials and Russia's government.
Sen. Al Franken: "If there is any evidence that anyone affiliated with the Trump campaign communicated with the Russian government in the course of this campaign, what will you do?"
Sen. Jeff Sessions: "Senator Franken, I'm not aware of any of those activities. I have been called a surrogate at a time or two in that campaign, and I didn't have—not have communications with the Russians."
The Washington Post reported Wednesday that Sessions twice met with Russian Ambassador Sergey Kislyak: in July on the sidelines of the Republican National Convention and in September in Sessions's office on Capitol Hill. And The Wall Street Journal reports that federal investigators are probing Sessions's contacts with Russian officials. House Minority Leader Nancy Pelosi on Wednesday accused Sessions of "apparent perjury" and said in a statement, "Sessions is not fit to serve as the top law enforcement officer of our country and must resign." Joining the call was Maryland Congressmember Elijah Cummings, ranking member of the House Oversight Committee. Many top Democrats are calling for a special prosecutor to investigate ties between top Trump officials and Russia's government. At least one top Republican senator said Wednesday he's open to the idea. This is Lindsey Graham of South Carolina speaking on CNN.
Sen. Lindsey Graham: "It is clear to me that Jeff Sessions, who is my dear friend, cannot make this decision about Trump. So they may be not—there may be nothing there, but if there's something there that the FBI believes is criminal in nature, then, for sure, you need a special prosecutor."
The Washington Post asked members of the Senate Armed Services Committee if they'd had contact with Russia's ambassador in the run-up to November's election. Nineteen of the 26 committee members who responded said no. In a statement, Attorney General Sessions said, "I never met with any Russian officials to discuss issues of the campaign. I have no idea what this allegation is about. It is false."
Obama Admin Left "Trail of Evidence" on Alleged Russia-Trump Ties
Meanwhile, The New York Times reports that the Obama administration scrambled during its final days in office to preserve evidence of Russia's collusion with the Trump campaign. Citing unnamed former officials, the Times says Obama's aides left a "trail of evidence" across different government agencies to prevent the incoming Trump administration from covering up or destroying evidence.
White House Seeks Drastic Cuts to Environmental Protection Agency
The White House is seeking to dramatically reduce the power of the Environmental Protection Agency, slashing dozens of programs and laying off 20 percent of the agency's staff. The plan calls for the complete elimination of EPA programs on climate change, toxic waste cleanup, environmental justice and funding for Native Alaskan villages. It would slash funding to states for clean air and water programs by 30 percent. In a statement to The Washington Post, William Becker of the National Association of Clean Air Agencies said, "These cuts, if enacted by Congress, will rip the heart and soul out of the national air pollution control program and jeopardize the health and welfare of tens of millions of people around the country."
Ryan Zinke Sworn In as Secretary of the Interior
Former Republican Congressmember Ryan Zinke was sworn in Wednesday as secretary of the interior. Vice President Mike Pence administered the oath of office in a ceremony at the White House.
Vice President Mike Pence: "We're confident that your record of leadership, integrity and public service will see to our nation's great natural resources and treasures as if they were your own. You'll look after and be a steward of the interior of this nation and the vast natural resources of this nation with the same commitment to principle and integrity that has characterized your life."
Ryan Zinke has long promoted mining and logging on federally held lands. He has indicated he's open to reversing a ban on oil drilling in the Arctic. Zinke has also denied scientists have proven the human impact on climate change.
Spring Arriving in Northern Hemisphere Far Earlier Than a Decade Ago
In climate news, new research finds spring is arriving in the Northern Hemisphere far earlier than it did a decade ago. The report in the journal Biology Letters found that spring arrived 22 days ahead of normal in Washington, D.C., this year, while in the Arctic some plant species began sprouting nearly a month earlier than normal. Meanwhile, an Argentine research base in Antarctica reported Wednesday it recorded a record high temperature of 63.5 degrees. The findings are consistent with models for global warming and came as the last three years were successively the hottest on record.
Undocumented DREAMer Daniela Vargas Arrested After News Conference
In immigration news, ICE officers arrested 22-year-old undocumented immigrant Daniela Vargas in Jackson, Mississippi, on Wednesday, shortly after she spoke out publicly in a news conference about the detention of her family. The arrest further stoked fears that the Trump administration is cracking down against DREAMers—immigrants brought to the U.S. as children, who received permission to live and work in the U.S. under President Obama's DACA program, or Deferred Action for Childhood Arrivals. At the time of her arrest, Vargas had a pending application for the renewal of her DACA status.
Police Chiefs Resist Trump Administration Immigration Plans
Meanwhile, police chiefs from cities across the U.S. are resisting a move by the Trump administration to enlist local police officers to help deport undocumented immigrants. The White House plan would also withhold federal funds from sanctuary cities that refuse to cooperate with federal immigration authorities. In a joint letter sent to Congress Tuesday, 61 sheriffs and police chiefs wrote, "We can best serve our communities by leaving the enforcement of immigration laws to the federal government. Threatening the removal of valuable grant funding from jurisdictions that choose not to spend limited resources enforcing federal immigration law is extremely problematic."
Trump to Allow Pentagon Raids Without Presidential Approval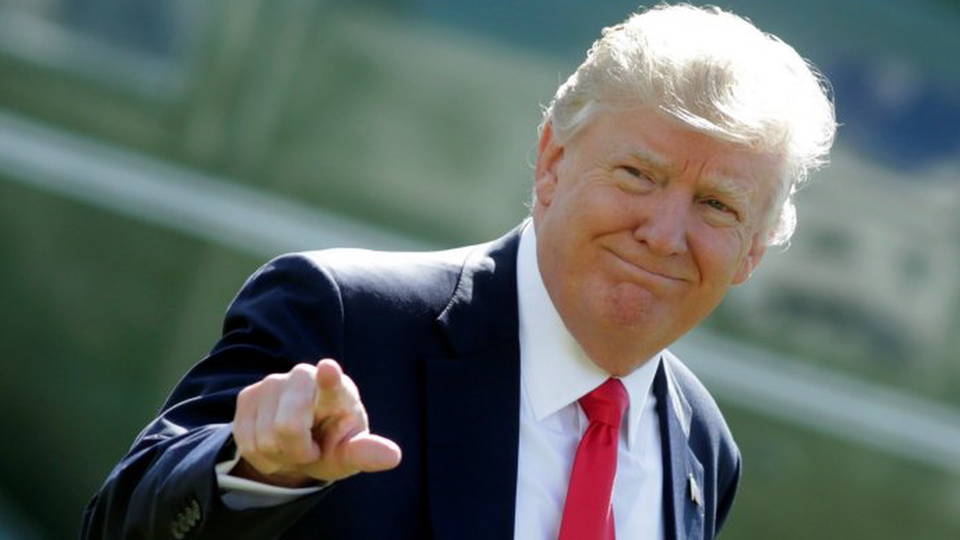 President Donald Trump wants to give Defense Secretary James Mattis and top military officials a freer hand to launch military raids overseas without presidential approval. That's according to The Daily Beast, which reports the move could give wide latitude to generals to launch operations like the raid in Yemen that cost the life of a Navy SEALand killed 25 civilians, including nine children under the age of 13. President Trump told a joint session of Congress on Tuesday the Yemen raid captured "large amounts" of vital intelligence that would prevent future terrorist attacks. But NBC News reports that multiple military sources said the raid produced "no actionable intelligence."
Yemen: U.N. Official Warns of Humanitarian Catastrophe
Meanwhile, a top U.N. official said U.S.-backed, Saudi-led airstrikes are exacerbating Yemen's humanitarian catastrophe. U.N. Emergency Relief Coordinator Stephen O'Brien spoke to reporters while touring southern Yemen.
Stephen O'Brien: "The best humanitarian solution for all the Yemeni people is the conflict stops, the guns fall silent. That's the best. And in the meantime, we have to do everything we can to support the people who have needs of food, of water, of warmth and of medicines. And we need to also make sure that we do everything we can to protect civilians from the terrible threat of war and all the terrible abuses that go on."
O'Brien called for an end to a Saudi blockade of Yemen's ports to allow food and medicine to arrive. The U.N. warns some 14 million Yemenis are hungry and at risk of famine.
Iraq: Mosul Air Raid Levels Mosque, Killing ISIS Fighters and Civilians
In Iraq, residents of the besieged city of Mosul say an airstrike leveled a mosque and flattened nearby homes, killing both ISIS fighters and civilians. At least three witnesses told Reuters they were unable to count the number of dead because the situation remained too dangerous. A Pentagon spokesperson said he wasn't aware of a strike targeting the mosque. The blast came as a coalition of U.S., Kurdish and Iraqi forces seized control of the last major road out of Mosul on Wednesday, trapping ISIS militants in the western half of the city.
Afghanistan: Taliban Attacks Kill 16 and Wound Dozens
In Afghanistan, the Taliban is claiming responsibility for attacks across the capital Kabul on Thursday which killed 16 people and wounded dozens more. One suicide attack targeted an Afghan intelligence agency building. Another suicide bomb struck a police precinct in western Kabul. This is one of the officers wounded in the blast.
Mohammad Osman: "I was in the office when I heard an explosion. Right after the explosion, I took up a position, and I tried to get out of the office. When the second explosion took place, I became unconscious. And when I opened my eyes, I found myself on the hospital bed."
Syria: Russian Warplanes Mistakenly Bomb U.S.-Backed Rebel Fighters
In Syria, a top U.S. general said Wednesday that Russian warplanes mistakenly bombed Syrian anti-government fighters who were being trained by the United States. Army Lt. Gen. Stephen Townsend said U.S. advisers were close to the assault when the bombing occurred. Russia's Defense Ministry denied its warplanes fired on positions held by the U.S.-backed Syrian Arab Coalition. Meanwhile, the United Nations said Wednesday the Syrian military deliberately targeted a U.N. aid convoy near Aleppo last September, calling the forced evacuation of opposition-held parts of the east of the city a "war crime."
Trump Organization Opens High-Rise in Vancouver Amid Protests
In Canada, Tiffany, Eric and Donald Trump Jr. joined a ribbon-cutting ceremony Wednesday for the new Trump International Hotel and Tower in Vancouver. This is Donald Trump Jr.
Donald Trump Jr.: "Coming from someone that has some experience with generational family businesses, I know how it's not always so easy. Not always so easy. I'd like to thank the press. Just kidding. It's great to see you here. I'm shocked. I'm absolutely shocked. But, no, it is great to be here. This has been an amazing journey."
Protesters gathered outside Wednesday's ribbon-cutting ceremony, where they chanted and held signs proclaiming "Love Trumps Hate." CNN reports the Vancouver high-rise will cater to wealthy investors—like an executive at a major Abu Dhabi bank—seeking to park their money in real estate investments. The Trump Organization doesn't directly own the tower but will instead collect licensing fees from the project's owner. Many government ethics experts say the investment puts President Trump at risk of violating the Emoluments Clause of the Constitution, which prohibits people holding federal office from accepting payments from foreign governments.
Georgia: Final Sentences Handed Down in White Supremacist Terror Case
In Georgia, a judge handed down the final two sentences this week against a group of 15 white people who terrorized black residents of the city of Douglasville, driving around town in pickup trucks emblazoned with Confederate flags, shouting racial slurs and threatening to shoot black people. Witnesses testified that over two days in July 2015, members of the group, which called itself "Respect the Flag," shouted the N-word at black motorists and harassed customers at local businesses. At one point the group drove onto the property of a black resident who was holding a birthday party for an 8-year-old child, shouting death threats and pointing a gun. Members of the group were found guilty of violating a street-gang terrorism law, with prison sentences of up to 13 years. The incident came a month after white supremacist Dylann Roof, who appeared in photos holding a pistol and waving a Confederate flag, massacred nine worshipers at the Emanuel AME Church in Charleston, South Carolina.
Oprah Winfrey Hints She May Run for President in 2020
And legendary talk show host and actor Oprah Winfrey hinted Wednesday that she's open to running for president in 2020. Oprah was asked about a possible run for the White House during an interview with David Rubenstein of Bloomberg TV.
Oprah Winfrey: "I actually never thought that that was—I never considered the question even a possibility. I just thought, 'Oh! Oh!'"
---
Courtesy of Democracy Now (www.democracynow.org).  The original content is licensed under a Creative Commons Attribution-Noncommercial-No Derivative Works 3.0 United States License.