FBI Clears Clinton in Latest Probe over Emails
FBI Director James Comey on Sunday said Hillary Clinton will not face charges over newly discovered emails from her private server, ending nine days of speculation that jolted the race and threatened Clinton's run for the White House. In a letter to lawmakers, Comey said he would not alter a decision he made in July, when he said Clinton had been "careless" with classified materials but would not face criminal charges. Clinton campaign spokesperson Jennifer Palmieri welcomed Sunday's news.
Jennifer Palmieri: "We have seen Director Comey's latest letter to the Hill. We are glad to see that, as we were—that he has found, as we were confident that he would, that he has confirmed the conclusions that he reached in July, and we're glad that this matter is resolved."
Comey's announcement is unlikely to quell Democrats who have called on him to resign. They charge Comey violated the Hatch Act, which prohibits federal employees from influencing elections.
Clinton, Trump Crisscross Nation Ahead of Election Day
On the campaign trail, Hillary Clinton enlisted some of the biggest names in show business to get out the vote. Superstar Beyoncé performed at a rally in Cleveland after her husband Jay Z introduced Clinton.
Jay Z: "This other guy, I don't have any ill will towards him, but his conversation is divisive, and that's not an evolved soul to me, so he cannot be my president. He cannot be our president. Once you divide us, you weaken us. We're stronger together. Once you divide us, you weaken us. We are stronger together. And without further ado, I would like to introduce to you the next president of the United States, Ms. Hillary Clinton."
Clinton returns to campaign in Michigan today to follow up on a Friday evening campaign stop in Detroit. Both first lady Michelle Obama and President Barack Obama are campaigning in swing states and will join Bruce Springsteen and Bon Jovi for a concert tonight in Philadelphia with the Clinton family. Meanwhile, Donald Trump is pushing ahead with campaign events in Florida, North Carolina, Pennsylvania and New Hampshire. In Wisconsin, Trump's campaign canceled an event near Milwaukee Sunday mere seconds after House Speaker Paul Ryan said he would take to the stage to support Trump there. A Trump campaign spokesperson said the cancellation was due to a "scheduling conflict."
Trump Accuses Democrats of Voter Fraud
Meanwhile, Donald Trump continues to accuse Democrats of voter fraud. On Saturday, Trump claimed the late opening of a voting site in a Latino neighborhood of Las Vegas due to long lines pointed to a "rigged system."
Donald Trump: "It's being reported that certain key Democratic polling locations in Clark County were kept open for hours and hours beyond closing time to bus and bring Democratic voters in. Folks, it's a rigged system. It's a rigged system, and we're going to beat it."
Arizona Anti-Immigrant Sheriff to Deploy Deputies at Polling Places
In Arizona, anti-immigrant Trump supporter Sheriff Joe Arpaio will deploy his deputies at polling stations on Election Day. Critics say the move is aimed at chilling voter turnout in an election that's expected to see a record turnout for Latinos, who heavily favor Clinton.
Reno, Nevada: Trump Protester Beaten for Holding Sign
In Reno, Nevada, a protester was tackled and beaten Saturday after he held a sign reading "Republicans Against Trump" at a Donald Trump campaign rally. Austyn Crites says he feared for his life after Trump told supporters to "Take him out."
Austyn Crites: "Trump—I didn't see exactly what happened. It looked like he was kind of pointing at me, almost like he was instigating something. People started going crazy. These people couldn't grab the sign. They start tackling me, and then it just piled on. And someone yelled something about a gun. But I was yelling down there, 'There is no gun. I only have a sign, I only have a sign.' But there was people wrenching on my neck so hard that, you know, they could have strangled me to death."
Secret Service agents rushed Donald Trump from the stage as Crites was beaten. Police detained Crites, then released him without charges. Police did not arrest any of the Trump supporters who assaulted Crites.
Pennsylvania Neo-Nazi Rally Features Signs of Support for Trump
In Pennsylvania, state police in riot gear held back hundreds of counterprotesters from a rally of about 30 white supremacists at the state Capitol building on Saturday. One of the self-described "national socialists" wore a Nazi-style uniform and a hat reading "Make America Great Again." He unfurled a banner reading "President Trump, Build the Wall."
Dylann Roof Mass Murder Trial Opens in South Carolina
In South Carolina, jury selection begins today in the trial of Dylann Roof. Prosecutors say Roof opened fire at Emanuel AME Church in Charleston, South Carolina, in June 2015, killing nine black worshipers, including the pastor, Clementa Pinckney. Roof, who is pleading not guilty, embraced white supremacist views and was shown in photographs posing with the Confederate flag and a pistol.
Cincinnati, OH: White Police Officer Who Killed Black Motorist Wore Confederate Flag
A white Cincinnati police officer was wearing a T-shirt emblazoned with a Confederate battle flag under his uniform when he shot and killed an unarmed black motorist last year. The revelation came Friday during testimony by a crime scene investigator at the murder trial of former University of Cincinnati officer Ray Tensing, who fatally shot 43-year-old Sam DuBose in July of 2015 after stopping him for not having a front license plate.
Photo Shows White St. Louis Officer Posing with Black Man's Dead Body
In Missouri, a mother of an African-American man found dead in a St. Louis area home is demanding an investigation, after a leaked photo showed an officer smiling and giving a "thumbs up" over the body of her son. The photograph was leaked to local station KMOV, which blurred the officer's face. It shows the officer, who is white, wearing gloves and smirking as he grips one arm of Omar Rahman's body. A medical examiner ruled Rahman died of an accidental drug overdose, but his mother says she has not heard from police since the day of his death last August.
Iraq: U.S.-Backed Forces Advance on Mosul
In news from Iraq, U.S.-backed Iraqi forces and Iraqi government militias are continuing the campaign to retake Mosul from ISIS. Mosul is the militant group's most populous territory in Iraq. There are reports of suicide bombs, booby traps and house fighting. As part of the campaign, Iraqi Kurdish fighters backed by U.S. airstrikes are battling today for control of Bashiqa, just northeast of Mosul.
Syria: Kurdish Forces Launch Campaign to Capture Raqqa
Meanwhile, in Syria, the U.S.-backed, Kurdish-led troops known as the Syrian Democratic Forces launched a campaign Sunday to take control of the city of Raqqa from ISIS. The U.S., France and Britain have all pledged to back the campaign with airstrikes. U.S. Central Command says the U.S.-led coalition has already conducted 16 airstrikes north of Raqqa since Sunday. An estimated 200,000 people currently live in Raqqa, which was seized by ISISmilitants in 2014.
Oklahoma: Strong Earthquake Causes Major Damage to Cushing
Back in the United States, in Oklahoma, a strong 5.0-magnitude earthquake struck the city of Cushing on Sunday evening, knocking out power, rupturing gas lines and partially collapsing buildings. Cushing bills itself as the "Pipeline Crossroads of the World" and is home to above-ground tanks that store millions of barrels of crude oil. Scientists believe that wastewater disposal wells from oil and gas "fracking" are linked to the dramatic rise in earthquakes in Oklahoma in recent years.
Colonial Pipeline Restarted Six Days After Deadly Explosion
In Alabama, the Colonial pipeline restarted its gasoline line Sunday, six days after a massive explosion killed one worker and severely burned four others. This same pipeline leaked nearly 340,000 gallons of gasoline in Central Alabama in September.
ND Police Tear Gas Native American Protectors Defending Sacred Sites from Dakota Access Pipeline
In North Dakota, police fired tear gas at Native American water protectors fighting the $3.8 billion Dakota Access pipeline Sunday, as they tried to protect a sacred site where they say their ancestors are buried. Kandi Mossett of the Indigenous Environmental Network also responded to President Obama's statement last week that the Army Corps is considering ways to reroute the pipeline.
Kandi Mossett: "Many of us here do not support a reroute, but it's important for people to know that even uttering those words could effectively kill this project, because they cannot possibly afford it."
U.N. Climate Change Talks Open in Morocco
The United Nations climate change talks opened today in Morocco, with the U.S. election casting doubt over efforts to slow global warming. Delegates to the negotiations in Marrakesh fear that, if elected, Donald Trump would make good on a campaign pledge to withdraw the U.S. from the Paris Agreement on climate change reached last year. Meanwhile, many climate scientists warn that countries need to commit to far deeper reductions in greenhouse gas emissions to meet the agreement's goal of limiting global temperature rise to 2.7 degrees Fahrenheit. We'll have more on global warming all next week, as Democracy Now! broadcasts from the U.N. climate talks in Marrakesh, Morocco.
NJ Gov. Christie Denies Involvement After Aides Convicted in "Bridgegate"
In New Jersey, Republican Governor Chris Christie is denying involvement in a plot to slow traffic on the George Washington Bridge, after two of his top aides were convicted Friday on all charges in the scandal. Jurors found Bridget Anne Kelly and Bill Baroni conspired to create a traffic jam to punish the mayor of Fort Lee for failing to endorse Christie's re-election. They each face a maximum sentence of 86 years and plan an appeal. A former ally to Christie, David Wildstein, has testified that Christie knew about the plan ahead of time. This is Governor Christie speaking on "
CBS
This Morning."
Gov. Chris Christie: "If the media and others attack you relentlessly for three years and you cannot defend yourself because you are in the middle of cooperating in the judicial process and cannot stain that process, then if there's only one line of information, then people will believe the line of information they're being given."
Jury Finds Rolling Stone Defamed UVA Administrator in Gang Rape Story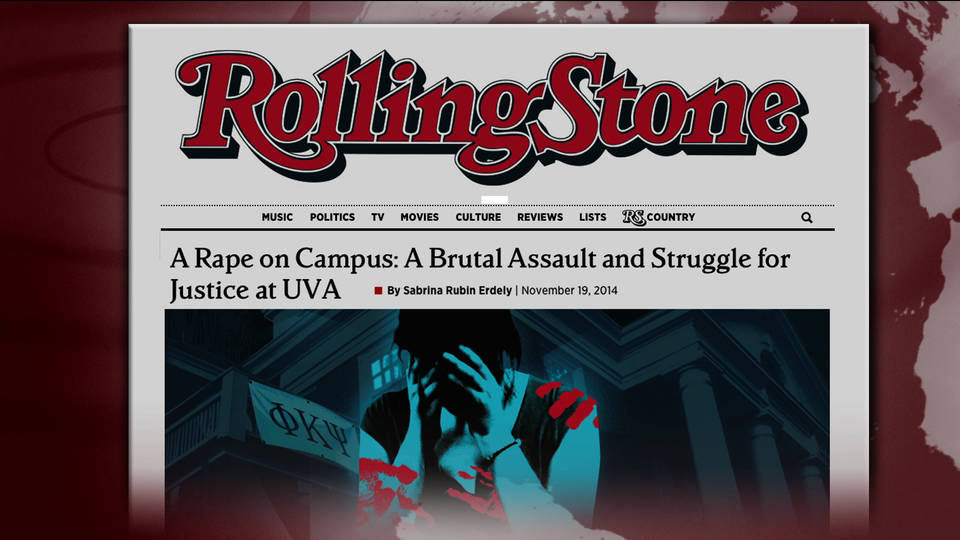 A federal jury has found Rolling Stone magazine defamed an administrator at the University of Virginia when it published an account of a fraternity gang rape that was at least partly inaccurate. The jury found that the 9,000-word article, "A Rape on Campus," showed actual malice toward UVA Associate Dean Nicole Eramo, who was accused of indifference toward survivors of sexual assault. The article centered on a student named Jackie, who says she was gang-raped at a fraternity. Rolling Stone retracted the story after acknowledging discrepancies and raising questions about its source. Jackie still maintains she was sexually assaulted, and Charlottesville police have kept her case open.
Hong Kong Pro-Independence Movement Faces Crackdown
In Hong Kong, police fired pepper spray against thousands of demonstrators who flooded the streets to protest a crackdown by China's central government on the city's independence movement. The clashes came after authorities said they would bar a pair of elected officials from taking office, after the two pledged allegiance to the "Hong Kong nation" and displayed a banner reading "Hong Kong is not China" during a swearing-in ceremony in October.
Volkswagen Accused of Cheating on Greenhouse Gas Emissions
Volkswagen faces fresh accusations that it rigged its cars to avoid pollution standards. The California Air Resources Board says some of VW's line of Audi luxury cars contained software that lowered carbon dioxide emissions under testing conditions. Regulators found that when cars were put into real-world conditions, the carbon dioxide emissions rose dramatically. Volkswagen previously admitted to rigging some 11 million vehicles worldwide, allowing them to emit up to 40 times more nitrogen oxide pollutants than standards allow.
Nicaragua: Daniel Ortega Wins Third Consecutive Presidential Term
In Nicaragua, President Daniel Ortega has won a third consecutive term in office after winning more than 70 percent of Sunday's vote. Ortega's wife, Rosario Murillo, will serve as his vice president.
Janet Reno Dies of Complications from Parkinson's at 78
And Janet Reno, the first woman to serve as U.S. attorney general, has died due to complications from Parkinson's at the age of 78. During her eight-year tenure, Reno oversaw the arrest and prosecution of the so-called "Unabomber," Ted Kaczynski, and Oklahoma City bomber Timothy McVeigh. She oversaw the deadly raid on the Branch Davidian cult in Texas, which left 76 people dead. Reno drew fire for her prosecution of Wen Ho Lee, the U.S. nuclear scientist of Chinese descent who spent nine months in solitary confinement after he was falsely accused by the Clinton administration of spying for the Chinese government.
---
Courtesy of Democracy Now (www.democracynow.org).  The original content is licensed under a Creative Commons Attribution-Noncommercial-No Derivative Works 3.0 United States License.