Obama: Army Corps Considering Rerouting Dakota Access Pipeline
President Obama says the U.S. Army Corps of Engineers is considering rerouting the $3.8 billion Dakota Access pipeline, amid months of resistance from the Standing Rock Sioux Tribe and members of more than 200 other Native American nations and tribes from across the Americas.
President Barack Obama: "My view is that there is a way for us to accommodate sacred lands of Native Americans. And I think that right now the Army Corps is examining whether there are ways to reroute this pipeline in a way. So, we're going to let it play out for several more weeks and determine whether or not this can be resolved in a way that I think is properly attentive to the traditions of the first Americans."
During his interview with the news outlet NowThis News, President Obama also addressed the issue of the harsh police crackdown against the resistance movement, which has included riot police deploying tear gas, mace, pepper spray, bean bag rounds and rubber bullets against the Native American water protectors.
President Barack Obama: "I want to make sure that as everybody is exercising their constitutional rights to be heard, that both sides are refraining from situations that might result in people being hurt."
Cost of Policing Dakota Access Pipeline Protests Swells to $10 Million
Obama's comments come as, on Tuesday, North Dakota officials approved an additional $4 million for policing—bringing the total cost of the police crackdown to $10 million. On Monday night, oil was poured on the North Dakota state Capitol building, along with a sign reading "You can't drink oil." Meanwhile, in New York City, hundreds of people protesting the Dakota Access pipeline flooded Grand Central Station during rush hour, holding banners reading "Indigenous Sovereignty: Protect Land and Water."
#NoDAPL: Protector Red Fawn Fallis Charged with Attempted Murder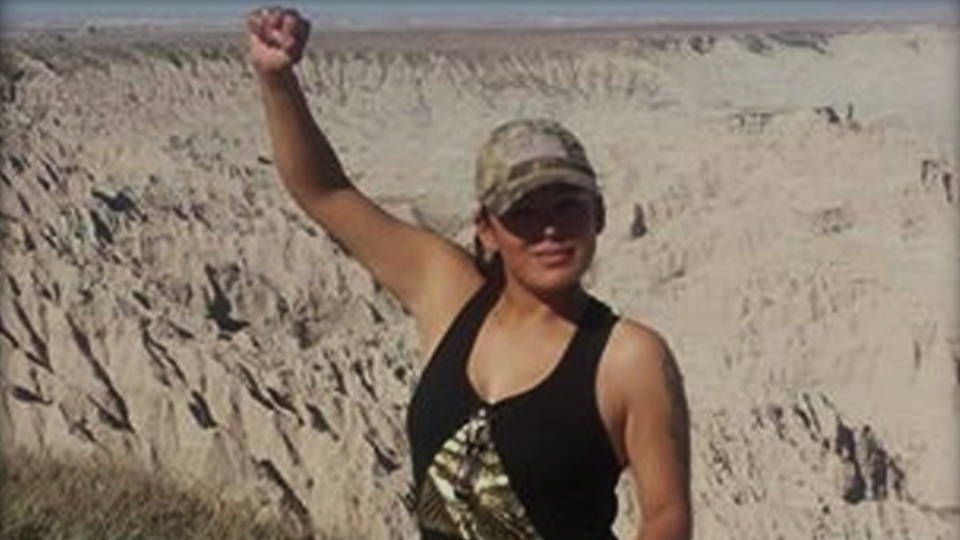 In more news on the Dakota Access pipeline, authorities have charged water protector Red Fawn Fallis with attempted murder and a slew of other charges stemming from the standoff on October 27, when hundreds of police raided a frontline resistance camp. Authorities say Fallis fired three shots during the standoff. She faces up to 20 years in prison. This comes after Morton County Sheriff Kyle Kirchmeier said he could not confirm any shots were fired by water protectors on October 27.
Report: Trump Companies Destroyed Documents Amid Court Proceedings
In election news, a Newsweek investigation has revealed Donald Trump's companies have defied court orders and destroyed or concealed thousands of pages of emails and documents amid lawsuits involving Trump companies. The investigation reveals Trump's destruction of documents goes back to at least 1973, when Trump and his father were fighting the federal government over charges their real estate company was discriminating against African Americans by refusing to rent apartments to black families.
FBI Tweets Docs from 2001 Probe into Bill Clinton Pardon
The FBI is continuing its investigation into a batch of Hillary Clinton emails that were recently found on the computer of former Congressmember Anthony Weiner, the estranged husband of top Clinton aide Huma Abedin. Weiner is under investigation after he sent illicit sext messages to an underage girl. The FBI's opening of this investigation so close to Election Day has sparked controversy. Meanwhile, on Monday, the FBI released 129 pages of documents from its 2001 investigation into former President Bill Clinton's presidential pardon of hedge funder Marc Rich, who fled to Switzerland after he was indicted on tax evasion and other federal charges. Clinton pardoned Rich on his last day in office. The pardon was investigated because Rich's ex-wife had donated $100,000 to Hillary Clinton's Senate campaign, as well as $450,000 to Clinton's presidential library foundation. The investigation was closed in 2005 with no charges filed. The redacted documents related to this investigation were tweeted out Tuesday by the FBI's Twitter handle, which had been inactive for a year until this past week. The FBI has also released and then tweeted out a file on Donald Trump's father, Fred Trump, on October 30.
NYT: Early Voting by African Americans Down Compared to 2012
In more campaign news, a New York Times investigation of early voting patterns shows the African-American vote is down compared to 2012. An analysis of early voting in Florida shows that turnout is lower than the state average in the five counties with the highest percentage of African-American voters. The analysis did show, however, that voting is up from 2012 among Latino voters.
Iraqi Military Enters Mosul, Takes Control of Mosul TV Station
The Iraqi military says U.S.-backed Iraqi special forces have entered the city limits of Mosul as part of its campaign to retake control of the city from ISIS. The United States is backing the Iraqi army with both U.S. special forces on the ground, as well as U.S. airstrikes. On Tuesday, the Iraqi military said it has taken control of Mosul's television station.
Talib Shaghati: "Our troops entered the Mosul TV station. The Mosul TV station is very significant. It means the city of Mosul. And this is good news for the people of Mosul, indicating that the real operation to liberate Mosul has begun."
The United Nations is warning as many as 1 million civilians could be displaced amid the fighting for control of Mosul—leading to what could become the largest humanitarian crisis in Iraq's history.
Morocco: 11 Arrested over Fish Seller Mouhcine Fikri's Death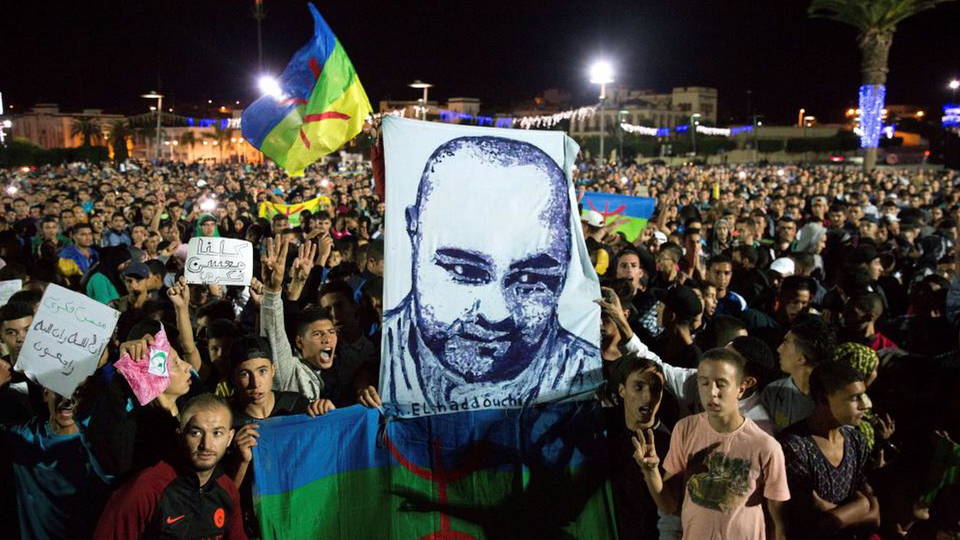 In Morocco, 11 people have been arrested in connection with the death of fish seller Mouhcine Fikri, who was crushed to death in the compactor of a garbage truck while he was trying to retrieve fish confiscated by police. His death has sparked massive protests across Morocco. People are drawing parallels to Tunisian fruit seller Mohamed Bouazizi in 2010, whose death sparked the Arab Spring uprisings. Moroccan authorities have ruled Fikri's death a homicide and charged the 11 arrested people with involuntary manslaughter and forgery of public documents. Click here to see our full interview with Moroccan-Dutch professor Miriyam Aouragh.
Fighting Between India and Pakistan Kills 13 Civilians
Fighting is continuing along the border between India and Pakistan in the disputed region of Kashmir. India says at least seven civilians were killed Tuesday on the India-controlled side, while Pakistan says six more civilians were killed on the Pakistan-controlled side on Monday. Fighting between the two sides has been escalating for weeks, forcing thousands to evacuate and causing the deaths of at least 28 civilians over the last 10 days.
France: Officials Demolish Calais Refugee Camp, Despite Protests
In France, authorities are continuing to clear and demolish the Calais refugee camp, known as "The Jungle." Hundreds of the remaining 1,500 asylum seekers, most of whom are children and teenagers, are being forced onto buses and sent to undisclosed locations across France today. Tuesday night, police in riot gear used tear gas against some of the asylum seekers protesting the demolition of the camp. Meanwhile, in Paris, police are cracking down on refugee encampments that have been growing as the Calais camp is shut down by authorities. On Monday just before dawn, riot police evicted thousands of refugees from their encampment near a Paris metro station. This is Afghan refugee Sakib Dawood.
Sakib Dawood: "Nobody's happy, and nobody wants to stay here. You know, it is not polite, it is not OK. If you don't have a home, you're homeless. The weather is cold, and nobody wants to stay in the street."
Venezuela: Opposition Drops Symbolic Trial Against President Maduro
In Venezuela, President Nicolás Maduro scored a political victory Tuesday when the opposition-led National Assembly announced it had suspended its symbolic trial against Maduro on charges he had been derelict in his duties as president. The opposition also canceled an anti-government march planned for Thursday. This comes after Maduro's government released five opposition activists from jail on Monday. Talks between the government and the opposition are planned for November 11.
Iowa: 2 Police Officers Shot and Killed in "Ambush-Style Attacks"
In Iowa, authorities say two police officers have been shot and killed in what police are describing as "ambush-style attacks" early today. The first shooting occurred around 1 a.m. in Urbandale, a suburb of Des Moines. About a half-hour later, a second officer was found dead in Des Moines, about a five-minute drive away from the site of the first shooting. The shootings are under investigation.
New York: Workers Detained in ICE Raid in Rochester Launch 7-Day March
And in New York state, a group of undocumented workers has launched a week-long march to protest raids by the Immigrations and Customs Enforcement agency in Buffalo, New York. The group is known as the Buffalo 25—25 undocumented workers who were detained after ICE raided four Mexican restaurants earlier this month. At least four of the Buffalo 25 are currently wearing GPS ankle monitors used by ICE. Last week, eight migrant justice activists were arrested after they blocked the entrance to the ICE office in downtown Buffalo. Churches across Buffalo have also opened their doors, offering sanctuary to undocumented workers in the wake of the raids. This is Leticia, one of the workers detained during the ICE raids.
Leticia: "What was my surprise? I found my house upside down, destroyed. My children, all four, were born here. They took my children's documents, which are the most important to us. They took all of our savings for college. It was about $9,000 to $10,000, and that was for college for my daughter. My daughter is strong, but I'm starting to see her waver. She says not to worry, that she'll start working soon."
---
Courtesy of Democracy Now (www.democracynow.org).  The original content is licensed under a Creative Commons Attribution-Noncommercial-No Derivative Works 3.0 United States License.