Fidel Castro, Leader of Cuban Revolution, Dies at 90
The Cuban government has declared nine days of national mourning following the death of Fidel Castro. He died on Friday at the age of 90. His death came 60 years to the day after he, his brother Raúl, Che Guevara and 80 others set sail from Mexico in 1956 to begin what became the Cuban revolution to oust the U.S.-backed Cuban dictator, Fulgencio Batista. Batista fled the island in 1959, and the Castros have led Cuba ever since. The Cuban revolution would inspire revolutionary efforts across the globe and lead Castro to become one of the archenemies of the United States. It is said he survived over 600 assassination attempts, many orchestrated by the CIA. Across the developing world, Fidel Castro was viewed as a hero who stood up to Washington and offered support for anticolonial struggles. Bolivian President Evo Morales spoke about Fidel Castro on Saturday.
President Evo Morales: "Fidel as a man, Fidel as a brother, a great human being. Fidel as a politician, a great revolutionary. Fidel Castro is a great teacher in principles and values, a teacher of revolutionaries. His fight has not only been for the Cuban people nor for the people of Latin America. The fight of Fidel has been for the people of the world that fought for freedom."
Sello Hatang of the Nelson Mandela Foundation also praised Castro.
Sello Hatang: "To the people of Cuba, your pain is ours. Fidel Castro belonged to you as much as he belonged to us. And we all believe that—we all know that at some point one has to transition to the other world. And I think, in his case, he is a proud man, having helped many struggles around the world to achieve freedom."
In a prepared statement, President Obama said, "History will record and judge the enormous impact of this singular figure on the people and the world around him." Meanwhile, President-elect Donald Trump tweeted, "Fidel Castro is Dead!" He later described Castro as "a brutal dictator who oppressed his own people for nearly six decades."
Trump Claims Millions of Illegal Voters Cost Him Popular Vote
Clinton Team Joins Jill Stein Effort for Election Recount
On Saturday, Hillary Clinton's legal team said it had agreed to participate in a recount of Wisconsin votes after the state's election board approved the effort requested by Green Party candidate Jill Stein. Stein requested the recount after some computer scientists and election lawyers raised the possibility that hacks could have affected the results.
Dr. Jill Stein: "Today we filed our petition for a recount, a hand recount, of the ballots in the presidential race in the state of Wisconsin. So this is very exciting, because we are standing up as a grassroots campaign and a grassroots movement. We are standing up for a voting system that we deserve, that we can have confidence in, that has integrity and security, and that we know is not subject to tampering, malfeasance, hacking and so on. So we're standing up to say that we deserve that in this election and actually in every election."
Trump Taps Billionaire Charter School Advocate Betsy DeVos as Education Secretary
Donald Trump has tapped conservative billionaire Betsy DeVos to serve as education secretary. DeVos is the former chair of the Michigan Republican Party and a longtime backer of charter schools and vouchers for private and religious schools. American Federation of Teachers President Randi Weingarten criticized the pick. She said, "In nominating DeVos, Trump makes it loud and clear that his education policy will focus on privatizing, defunding and destroying public education in America." DeVos's father-in-law is the co-founder of Amway and a longtime supporter of right-wing causes. Her brother is Erik Prince, founder of the mercenary firm Blackwater.
Israel Praises Nikki Haley Pick as U.N. Ambassador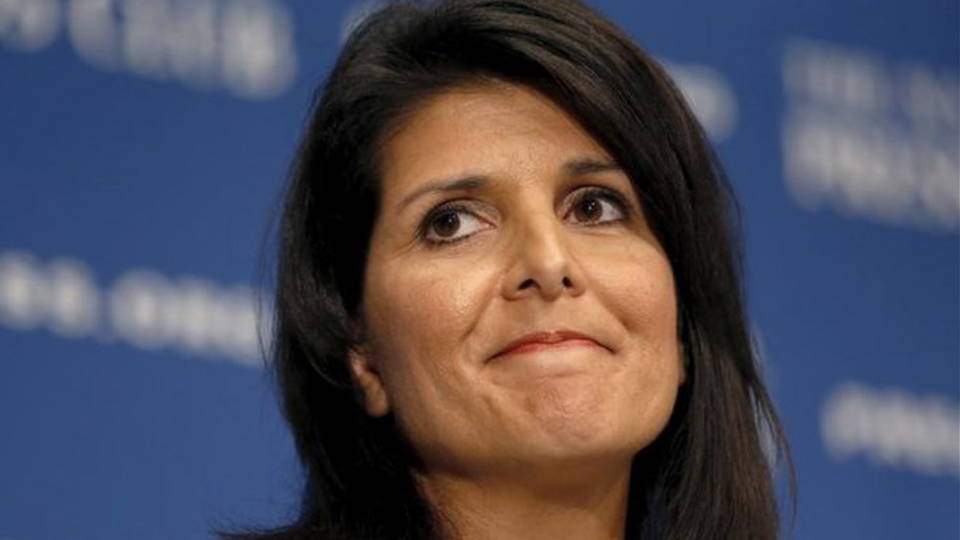 Donald Trump has named South Carolina Governor Nikki Haley as the next U.S. ambassador to the United Nations. The daughter of Indian immigrants, Haley is widely seen as a foreign policy novice. Israel was one of the first countries to welcome her nomination. Last year, Haley became the first governor to sign legislation against the BDS, or Boycott, Divestment and Sanctions, movement, an international campaign to pressure Israel to comply with international law and respect Palestinian rights.
Trump Aide Criticizes Romney as Potential Secretary of State Pick
This comes as Donald Trump has yet to announce his pick for secretary of state. Former Massachusetts Governor Mitt Romney and former New York Mayor Rudy Giuliani are said to be in the running. On Sunday, one of Donald Trump's top advisers, Kellyanne Conway, publicly criticized Romney during an appearance on "Meet the Press."
Kellyanne Conway: "People feel betrayed to think that Governor Romney, who went out of his way to question the character and the intellect and the integrity of Donald Trump, now our president-elect, would be given the most significant Cabinet post of all: secretary of state. And that is a decision that only one man can make."
Army Corps of Engineers to Close Access to Standing Rock Protest Camp
In news from North Dakota, the U.S. Army Corps of Engineers has announced it plans to close public access to the site of the Standing Rock protest camp on December 5. For months, indigenous water protectors have camped out in the area to fight the $3.8 billion Dakota Access pipeline, which would carry crude from the Bakken oilfields of North Dakota through South Dakota, Iowa and Illinois. In a statement Sunday, the U.S. Army Corps of Engineers said it had "no plans for forcible removal" of protesters, but the agency said anyone who remained would be considered unauthorized and could be subject to various citations. Dave Archambault II, the chairman of the Standing Rock Sioux Tribe, said in a statement that the tribe was "deeply disappointed" by the decision.
Jackson Browne Plays Anti-DAPL Concert in North Dakota
Meanwhile, on Sunday night, musical legends Jackson Browne and Bonnie Raitt performed a benefit concert for the Standing Rock protesters. Jackson Browne made headlines last month when he signed an open letter to Kelcy Warren, CEO of Energy Transfer Partners, which owns the pipeline. Warren also owns a small music label, Music Road Records, which once released a Jackson Browne tribute CD. Browne said, "I do not support the Dakota Access pipeline. I will be donating all of the money I have received from this album to date, and any money received in the future, to the tribes who are opposing the pipeline." In the press release about the Jackson Browne tribute album, pipeline owner Kelcy Warren wrote, "I don't know of anybody that admires Jackson more than me."
U.N.: Half a Million Children Live in Besieged Areas
In news from Syria, the United Nations is warning that about half a million children are now trapped in besieged areas and are "almost completely cut off from sustained humanitarian aid and basic services." The U.N. report estimates there are 100,000 trapped children in the rebel-held areas of Aleppo, which witnessed intense fighting over the weekend. According to the Syrian Observatory for Human Rights, two rebel-held areas of eastern Aleppo have fallen to government forces in what's been described as the biggest defeat for the opposition in Aleppo since 2012.
Pentagon Reports First U.S. Combat Death in Syria
In other news from Syria, the Pentagon has announced the U.S. military has suffered its first combat death in Syria. The military said a Special Operations Forces member was killed by an improvised explosive device in northern Syria on Thursday.
Obama Moves to Expand Military Operations in Somalia
With less than two months remaining in office, President Obama has quietly moved to expand U.S. military operations in Somalia. According to The New York Times, the administration has decided to deem the militant group al-Shabab to be part of the armed conflict that Congress authorized after the September 11, 2001, attacks, even though al-Shabab did not exist as an organization at the time. The move will make it easier for U.S. forces to intensify airstrikes and counterterrorism operations.
Israel Announces Plan to Build 500 New Settlement Homes in Jerusalem
Israel has announced plans to build 500 new settlement homes in occupied East Jerusalem in violation of international law. It is the first announcement of new settlement construction since the election of Donald Trump, who has claimed all of Jerusalem is part of Israel. Palestinian lawmaker Mustafa Barghouti criticized the move.
Mustafa Barghouti: "The declaration of the establishment of 500 new settlement units is only the beginning of a very dangerous step to legalize and build more than 30,000 new settlement units in the area of Jerusalem. More than that, this Israeli government is planning to legalize and initiate 120 new settlements in addition to the 159 settlements."
47th National Day of Mourning Held on Thanksgiving at Plymouth Rock
On Thursday, an estimated 1,000 indigenous people and allies gathered at Plymouth Rock, Massachusetts, for the 47th National Day of Mourning. This year's gathering—the largest ever—was held in solidarity with the water protectors at Standing Rock, North Dakota. Speakers included Moonanum James, co-leader of the United American Indians of New England.
Moonanum James: "In the spirit of Crazy Horse, in the spirit of Metacom and in the spirit of Geronimo, but, above all, in the spirit of the water protectors at Standing Rock, and rest assured of this: We are not panicking. We are not conquered. We are as strong as ever. Ho!"
---
Courtesy of Democracy Now (www.democracynow.org).  The original content is licensed under a Creative Commons Attribution-Noncommercial-No Derivative Works 3.0 United States License.