Obama Criticizes FBI Director Comey over Clinton Email Announcement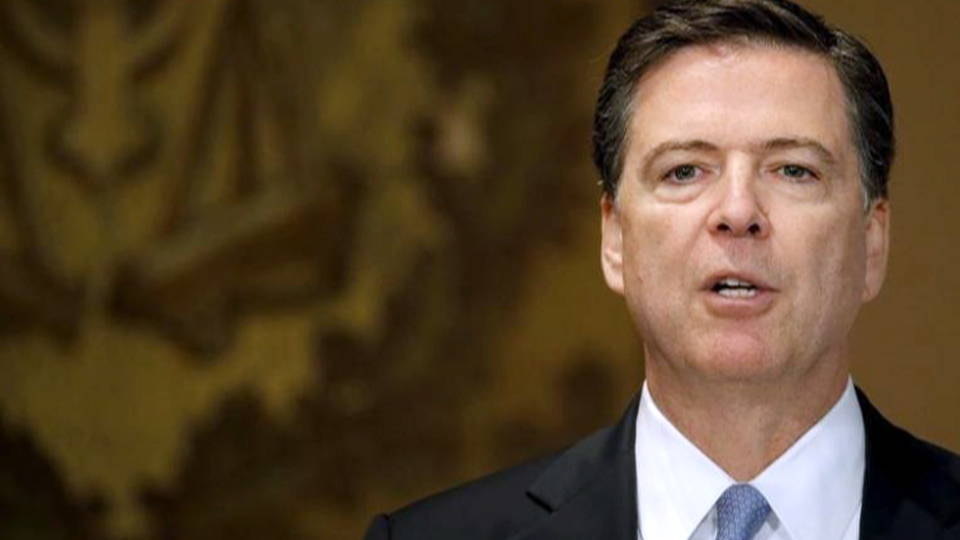 In news from the campaign trail, President Obama has criticized FBI Director James Comey for announcing an investigation into a new batch of Hillary Clinton emails. They were discovered as part of a probe into former Congressmember Anthony Weiner, the estranged husband of top Clinton aide Huma Abedin, who is under investigation after he sent illicit sext messages to an underage girl. Comey's announcement only days before Election Day has jolted the race and narrowed Hillary Clinton's lead over Donald Trump. This is President Obama.
President Barack Obama: "And I do think that there is a norm that when there are investigations, we don't operate on innuendo, we don't operate on incomplete information, we don't operate on leaks. We operate based on concrete decisions that are made. When this was investigated thoroughly the last time, the conclusion of the FBI, the conclusion of the Justice Department, the conclusion of repeated congressional investigations was that she had made some mistakes, but that there wasn't anything there that was prosecutable."
Obama is campaigning for Clinton every day this week in North Carolina, Florida and Ohio.
Woman Who Accuses Trump of Raping Her at 13 Cancels News Conference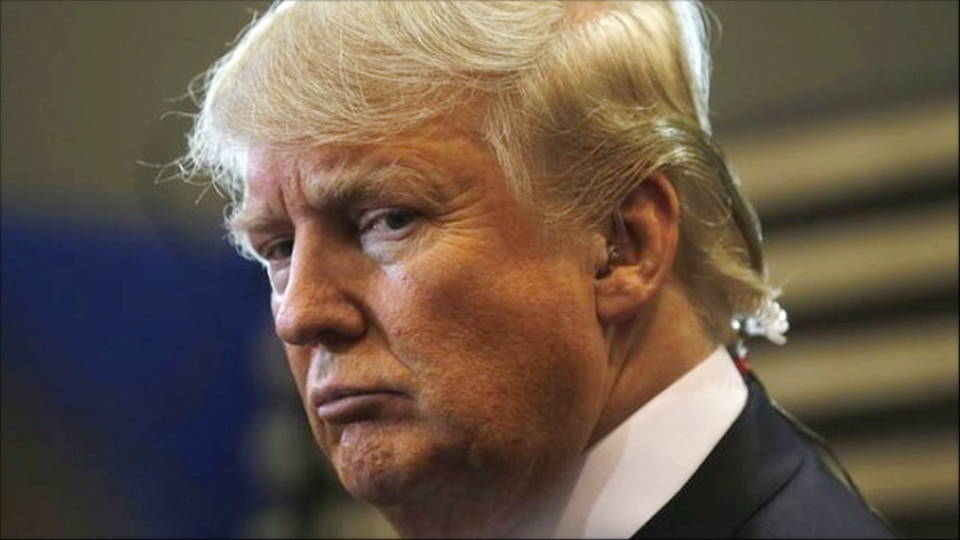 In more election news, a woman who has sued Donald Trump for allegedly raping her two decades ago, when she was 13 years old, canceled a scheduled news conference Wednesday. The woman's lawsuit alleges: "Trump tied plaintiff to a bed, exposed himself to plaintiff, and then proceeded to forcibly rape plaintiff. … Trump responded to plaintiff's pleas by violently striking plaintiff in the face with his open hand and screaming that he would do whatever he wanted." The lawsuit alleges Trump raped her at a party hosted by billionaire Jeffrey Epstein, who has been jailed on charges of soliciting sex from a minor. The woman, who has remained anonymous, was scheduled to come forward on Wednesday but canceled the conference after her lawyer, Lisa Bloom, said she had received multiple death threats. Bloom said, "She has decided she is too afraid to show her face. ... She is in terrible fear." Trump's lawyer has denied all the allegations, saying they are "not only categorically false, but disgusting."
Louisiana: Police Pepper-Spray Protesters Outside David Duke Senate Debate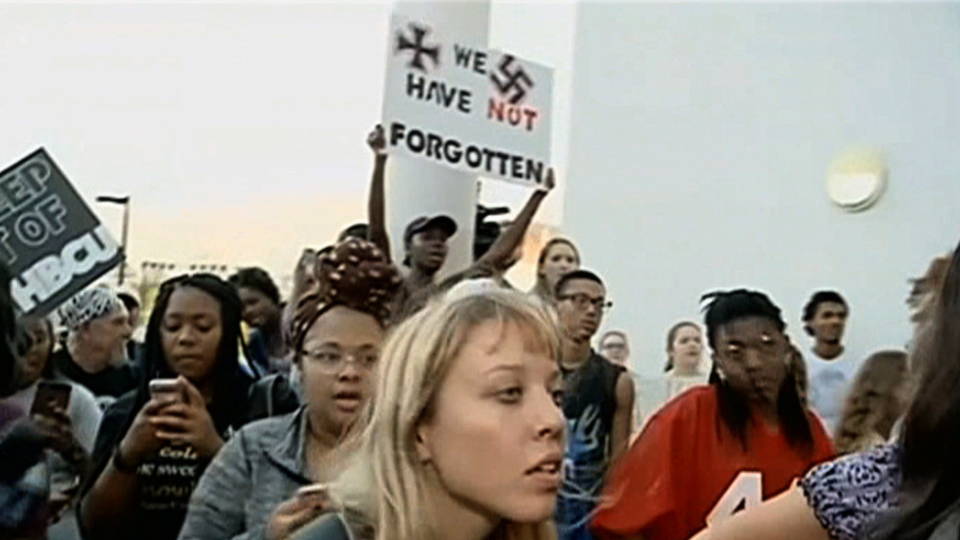 In local election news, in Louisiana, police attacked protesters with pepper spray, as the group demonstrated against U.S. Senate candidate, former Ku Klux Klan leader David Duke outside a candidate debate Wednesday night held at the historically African-American college Dillard University in New Orleans. At least one protester was detained by police, and others were forced out of the venue. The six-candidate debate was closed to the public and occurred inside an empty auditorium.
Mississippi: Black Church Burned, Vandalized with Words "Vote Trump"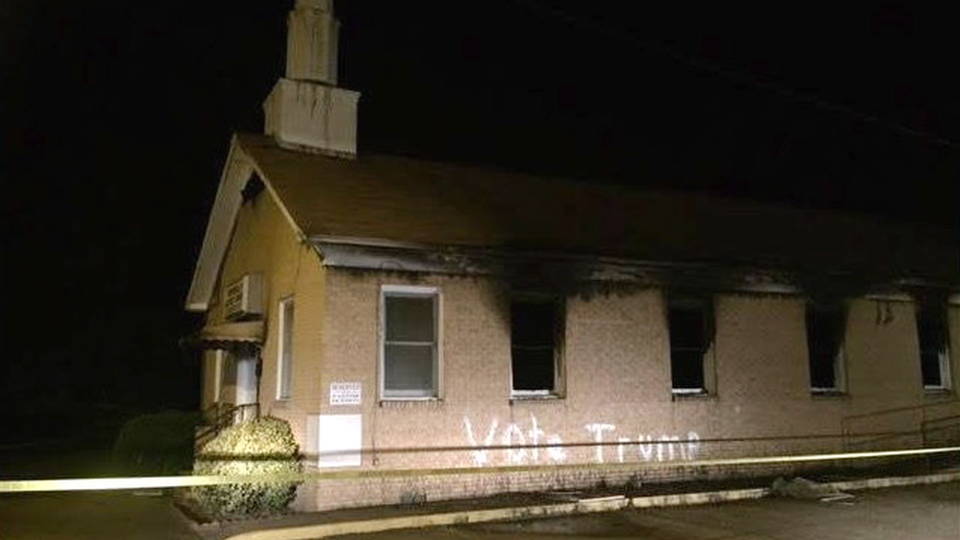 In Mississippi, authorities are investigating the burning and vandalism of a historic African-American church in Greenville on Tuesday night. The 111-year-old Hopewell Missionary Baptist Church was torched and then spray-painted with the words "Vote Trump." Authorities say they are investigating the attack as a hate crime. Greenville Mayor Errick Simmons called the incident "an attack on the black church and the black community. … This happened in the '50s and the '60s. This should not happen in 2016."
Amnesty Accuses Militias Fighting ISIS of Torture
In Iraq, hundreds of families are fleeing the fighting in eastern Mosul amid the U.S.-backed Iraqi army's offensive to retake the city from ISIS. Amnesty International is accusing some of the militias fighting against ISIS of revenge attacks against local villagers. The group says some militia members have engaged in torture: tying suspected ISIS sympathizers to cars and driving them through villages, beating people's faces with cables and holding them in inside poultry cages in public.
Pentagon: 2 U.S. Soldiers Killed in Afghanistan
The Pentagon says two U.S. soldiers have been killed in Kunduz, Afghanistan. U.S. soldiers have been backing the Afghan forces battling the Taliban, which took control of the city of Kunduz in October. Kunduz is also the site of the deadly U.S. bombing of a Doctors Without Borders hospital in October 2015 which killed 42 people, including patients and staff. This comes as the United Nations is a warning of a new wave of displacement in Afghanistan amid the ongoing violence. At least 1 million Afghans have been uprooted from their homes by the violence this year.
Pentagon: U.S. Drone Strike in Syria Kills al-Qaeda Leader
The Pentagon says a U.S. drone strike killed an al-Qaeda leader in Syria last month. Navy Captain Jeff Davis says the strike on October 17 killed Haydar Kirkan, who allegedly had ties to Osama bin Laden.
Britain: Court Rules Lawmakers Have to Vote on Brexit
Meanwhile, in breaking news from Britain, the plan for the country to leave the European Union has been thrown into turmoil after a court ruled today that Parliament members have to vote on whether in fact to begin the formal exit proceedings. In June, Britain stunned the world by voting to leave the European Union during a nationwide referendum, leading to the resignation of Prime Minister David Cameron.
Angela Merkel: Turkey's Crackdown on Press Freedom "Extremely Alarming"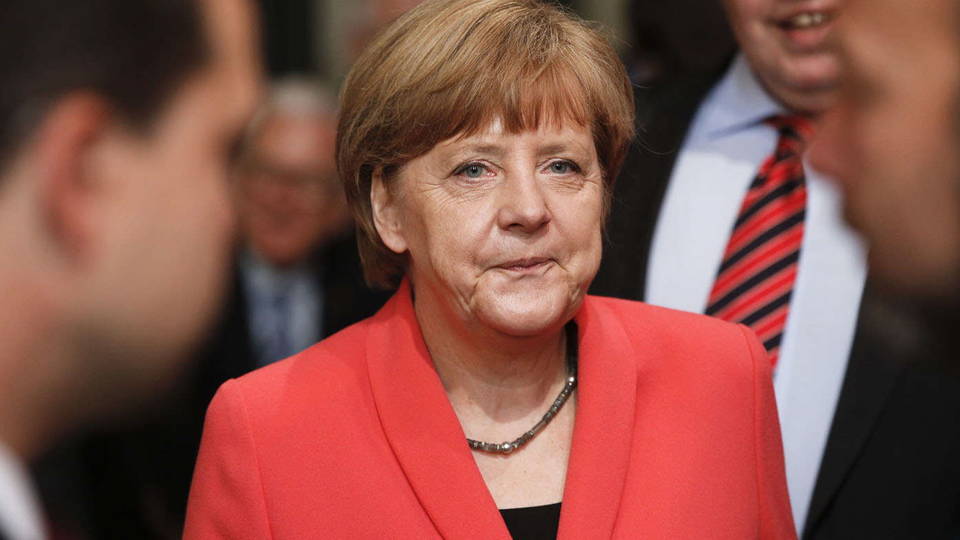 German Chancellor Angela Merkel has spoken out against the crackdown on press freedom in Turkey, where 170 news outlets have been forced to close since the failed military coup attempt in July. Earlier this week, police raided the Istanbul office of the prominent Cumhuriyet newspaper, detaining at least 12 journalists and administrators on terrorism charges. The newspaper won the 2016 Right Livelihood Award.
Chancellor Angela Merkel: "As to Turkey, it is extremely alarming to me and the federal government that the freedom of the press is being curtailed time and again. The latest example of these already very unfortunate developments is what is happening to the editors and journalists of the newspaper Cumhuriyet. We have serious doubts that this is allowed under the principles of a constitutional state."
Iowa: White Man with History of Domestic Abuse Arrested for Shooting Police Officers
In Iowa, a man has been arrested following the fatal shootings of two police officers. Suspect Scott Michael Greene, who is white, is accused of killing the two white police officers in "ambush-style" attacks early Wednesday morning. The shootings come a few weeks after Greene brought a Confederate battle flag to a football game at Urbandale High School and waved it in front of people of color. He was thrown out of the stadium by police. He has also been accused of multiple instances of domestic violence. A few days after he brought the Confederate flag to the football game, he was arrested and charged with elderly abuse after he reportedly attacked his mother. He was also charged for domestic violence in 2001. The charges were later dropped.
ND: Police Attack Protectors with Tear Gas in Latest Standoff Against Pipeline
In North Dakota, police deployed pepper spray and tear gas against dozens of Native American water protectors during a standoff at Cantapeta Creek, north of the main Oceti Sakowin camp where thousands have been resisting the construction of the $3.8 billion Dakota Access pipeline. At least two people were shot with nonlethal projectiles. Video and photos show police firing the pepper spray and tear gas at the water protectors, who were peacefully standing in the creek. The U.S. Army Corps of Engineers had ordered police to arrest the Native Americans and destroy a bridge that members of the camp had constructed over the creek in order to protect a sacred burial ground they say is being destroyed by construction and law enforcement activity. This comes after President Obama said the Army Corp of Engineers is considering plans to reroute the Dakota Access pipeline. We'll have more on the latest standoff and Obama's comments after headlines with Standing Rock Sioux Tribal Chairperson Dave Archambault II.
Lawmakers Seek Investigation of Colonial Pipeline After Fatal Explosion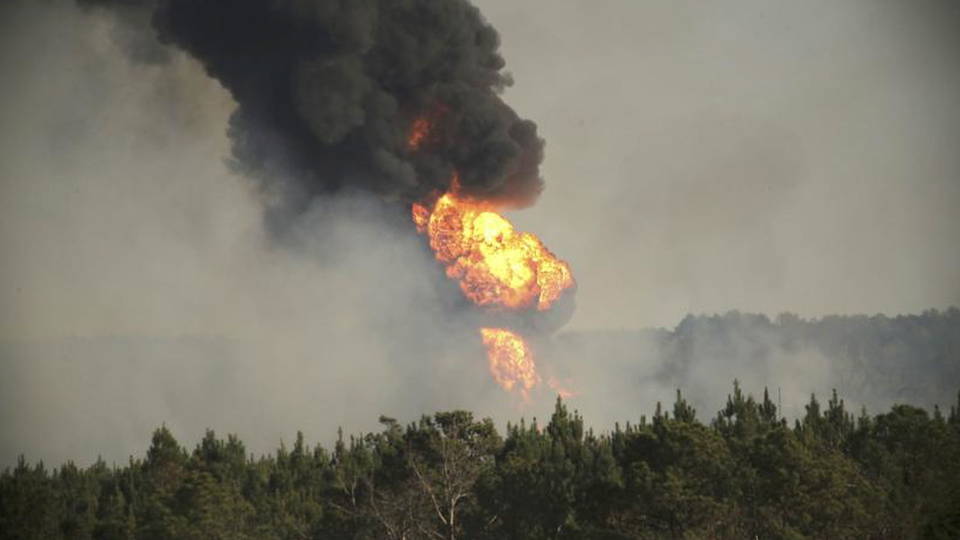 In Alabama, the Colonial pipeline remains shut down following a fatal explosion along a section of the pipeline on Monday in Shelby County, Alabama. One worker died and five were hospitalized after columns of fire burst from the punctured pipeline and shot up to 150 feet in the air. Colonial Pipeline Company has said as many as 168,000 gallons of gasoline could have burned, spilled, evaporated or remained in the pipeline following the blast. Democrats on the House Energy and Commerce Committee are seeking an investigation of the Georgia-based company. This comes after this same pipeline leaked nearly 340,000 gallons of gasoline in Central Alabama in September, forcing the line to shut down for 12 days and leading six governors to declare states of emergency as gas prices rose throughout the region. The Colonial pipeline carries 1.3 million barrels of gasoline per day down to refineries in Texas and Louisiana, accounting for a full 40 percent of the region's gasoline. We'll have more on the pipeline explosion later in the broadcast.
GE & Baker Hughes to Merge, Creating 2nd Largest Oilfield Service Company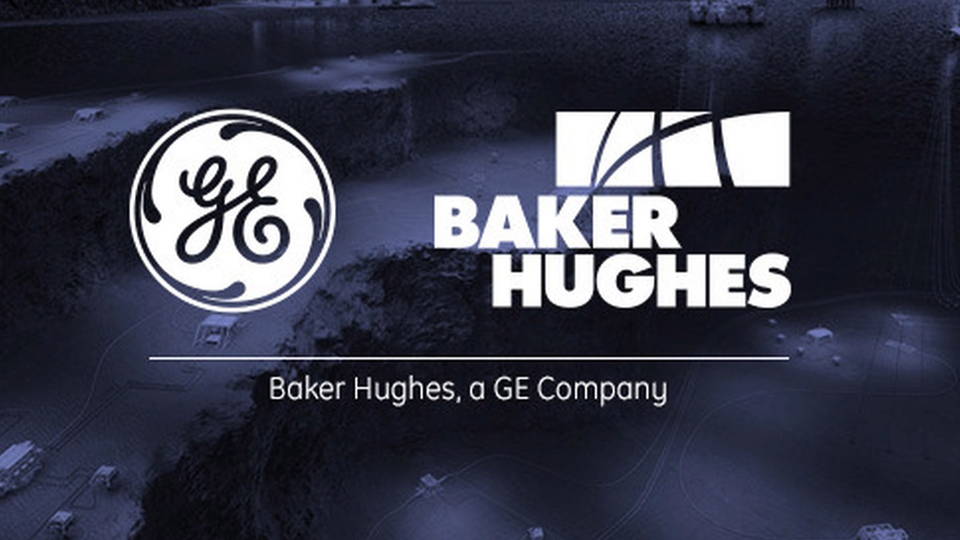 In more oil and gas news, General Electric and Baker Hughes have announced plans to merge, which would create the second largest oilfield service company in the world, after Schlumberger. The merger comes amid increasing consolidation in the oil and gas industry.
Michigan: Nestlé Seeking to Bottle 400 Gallons/Min. of Lake Michigan Water for Free
And in northern Michigan, a Nestlé bottling plant that has been sucking water out of aquifers that feed Lake Michigan for free for years is now petitioning the state regulatory agency for permission to expand and pump even more fresh water out of the ground for free. The Nestlé Ice Mountain bottling plant in Mecosta County, Michigan, is proposing a $36 million expansion of its plant. It's asking the Michigan Department of Environmental Quality for permission to more than double the amount of water it can pump out of the ground, from 150 gallons per minute to 400 gallons per minute. The bottling plant has been the site of a more than decade-long struggle by local residents, who oppose the extraction of the groundwater for profit. This is local activist Peggy Case.
Peggy Case: "So the water that Nestlé is bottling, here and elsewhere in our state, is coming from the Great Lakes Basin. It is feeding here into Dead Stream and Cold Creek, then into the Little Muskegon River, that aquifer, and then eventually, ultimately, into Lake Michigan. So, it's Great Lakes Basin water. It's part of the commons. It belongs to all of us. And part of the reason that people in Mecosta were pretty upset about it is that the extraction of that water was being—it was being taken out of the watershed. The streams were being pumped down, to the point where the Dead Stream looked like a mudhole at one point, and bottled and shipped all over the world."
Click here to see our full interview with Peggy Case and other activists from when Democracy Now! was in Michigan.
---
Courtesy of Democracy Now (www.democracynow.org).  The original content is licensed under a Creative Commons Attribution-Noncommercial-No Derivative Works 3.0 United States License.